Post by blaque on Feb 13, 2018 14:16:42 GMT -5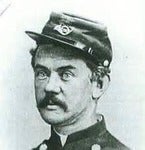 I will have to put what you state on a map so I can see it better. But if I understand it then bypasses the defiles that we found on the Darling route.
As far as the morass we can look for the soil type that creates it whether there is water or not. The clay content is what causes the water to stay in the most observable morass that includes a bridge to get over the drainage. The high amount of clay causes the retention of the water and the clay is what causes the animals to get stuck. So standing water in Reno Creek from a recent rainfall would not create a morass. One year we cut short our ride and came out possibly where you suggest. Coming down this drainage you enter Reno Creek from an elevation.
The water was easy to ride through and there is no clay soil to cause the effect at least where we came out and crossed Reno Creek. So for me the key is to find the location that has the clay soil which would create the area where the mules got stuck.
I like investigations such as this so let's get your route on a map so I can be sure we are on the same page. It's easy to think there is only a couple of ridges to cross when the reality is there are numerous ridges to cross which makes it feel like ad infinitum.
So what I believe is that you can have a morass location without water but you can not have a morass without the soil that would hold water if available and create the mule sticking situation.
Regards
Steve
Steve,
Very well thought. However, and though I know nothing about geotechnics, I wonder whether it would be possible that –after one century and a half– the clay soil of Benteen's morass is no longer the outermost layer of soil, but nowadays rests hidden under layers of dirt. In any case, Darling stated that "Today, at each of the junctions where Valley 1, Valley 2, Valley 3 join Reno Creek, there is a very extensive creek-bottom depression, well watered and almost swamp-like. A large 'morass' of this type also exists where South Fork joins Reno Creek" (
Benteen's Scout
, p. 36). It's for this reason (among others) that Darling believed that Valley 2 fullfilled every requirement for Benteen's return route, but the mileage.
Where I think Darling and many others are wrong is in giving for granted that Benteen crossed the creek and then followed Custer's trail down the right bank. Irrespective of whether the battalion returned to the creek descending Valley 2 or Valley 3, it would have struck first the trail left by Reno's command, and it makes little sense that Benteen would have ignored it to proceed farther to the north. It's only logical to suppose that Benteen chose the first large cavalry trail he found (Reno's) and then took it to rejoin the Regiment. And this logical supposition was plainly corroborated by a key participant when questioned about the return to the main trail (Nichols' RCOI, p. 442):
Lee:
Whose trail did you strike?
Edgerly:
It was the trail I presume made by Major Reno, in fact I know it was. We followed that trail to near the crossing.

Benteen, like Reno, would have crossed to the right or Custer's bank of the creek shortly before reaching the eastern LT, and then followed the parallel trails of both commands until "the horns of a dilemma".
I'm posting a Google map annotated with my suggested routes and locations, all of them merely tentative.