Post by benteeneast on Nov 12, 2015 10:13:04 GMT -5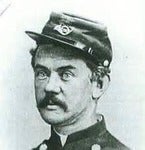 That is certainly one thing that can happen. A spring is nothing more than ground water making it to the surface. What I see at the morass along the Reno Creek Rd is an active stream running into the morass. There is bridge there to allow the movement of the water under the road.
What I don't know is how dependent that morass relies upon surface runoff that backs up in that drainage. I suspect as the flow decreases the size of the morass changes. The soil seems to have a lot of fine particles which help to keep the water from going to ground. When we rode the back side of the battlefield we came to a morass and the smell was bad enough that my horse had to be persuaded to continue past a dead cow stuck in what looked like a clay soil.
Regards
Steve
I agree with that for the most part. We have several of these on our place. Over the years I have never heard anyone refer to them as a morass, in fact the only morass that I know of is the ones on Reno Creek. Now that does not mean that we don't have other morasses, it only means that no one in this area calls them a morass. Most of the time when you hear someone use the proper technical description of this sort of thing, you can bet you are talking to a greenhorn.
From the locals you would hear things like ......Don't ride down there, its kinda swampy.
or they might refer to it as a seep. There are more.
The Morass on Reno creek is boggy year around so I think it is spring fed. The easy way to tell is to go to the morass in the winter and see if there are spots that are not froze over. There will be thin ice or open water close to the location of the true spring. There might be several places within 50 yards of each other.
Rosebud
Justin
I agree the term morass is foreign in my area also. I found another definition that fits what they observed.
a soft wet area of low-lying land
that sinks underfoot
Regards
Steve