Post by benteeneast on Oct 9, 2017 10:58:31 GMT -5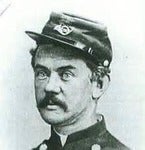 Of all people you need to say this to since you are good at researching, you need to do more research before making such a comment. Have you read Doug Scott's book A Good Walk Around the Boundary? So if there is more than one source than do you change your opinion?
Gordon Harper, JSIT, Doug Scott, Linthicum, Boyes, the Cheyennes, and Nailer to name a few. I think Custer was on offense and moving quickly so there would not be lot of artifacts in any one place unless they stopped to fight.
BE
I understand the point you make and point out that it is a faith. Michael Donahue is an exuberant infection. Yes, I have read the book. The book was written by Doug Scott and Peter Blood. Donahue had nothing to do with the book.Beyond opinion, I'll respond in this way. Immense research has been invested in 7th Cavalry's roster. Who was actually there. Who died, who was wounded, earnt recognition and on and so forth. It truly is a continuing and unsung branch although it produced something remarkable, a thoroughly enjoyable website devoted to
Men with Custer
.
Within a small degree of errors we know beyond any doubt that thirty men of the regiment, or five companies, if you prefer; were never missing. How that idea came about amongst the regiment's officers is dumbfounding, really and tells quite much about how dishevelled that unit was in the aftermath. I believe that no-one can find reasonable terms under which to disagree. 30 men missing from 7th Cavalry's post battle muster was a misnomer and one which persists today when it suits a discussion point or argument.
You need to read Jose's post which covered the information you are seeking. The highlights were that at first they thought 30 were missing and during that time is when Benteen was drawing his battlefield map. It is his opinion at the time when he drew his map where they may be found.
Thirty men were not missing. Benteen made a mistake... quite a big one, and the information on his map about 30 missing men, is rubbish. Any consideration or construct using that information is flawed beyond a waste of time.
The problem with you rubbish theory is there had to be a reason that Benteen put them there rather than just a footnote. We all know that the latter count which show that it was an error about 30 men missing. Again read Jose's post.
Moving on, Fox in particular, and all the archaeologists have NOT found artifact proof which can be verified,False statement. Cartridge cases found on BRE match cases on Calhoun Hill in regards to 4 distinct carbine that made the tool marks on the cases. That is about as good as you can get for evidence consistent with troopers on BRE. that anything took place on that territory. There is a ten years after photograph by Barry which Gall directed and there are three (that i'm aware of) accounts of the battle by Gall which he provided on the day that the photograph was taken. They were given to Godfrey in sign and mimic; that provided for the Pioneer Press; one given to D.F. Barry with the two photographs of skirmish lines. I cannot learn whether F. E. Server translated for Barry. H was the interpretter to whom Godfrey variously referred to as unhelpful when the officers were interviewing Gall at LSH. There is an account of the battle by Server.
You keep stating 1991 but ignore Scott's work in 1989 or Rickey's work in 1956. I don't think Donahue was even a teenager in 1956 let alone a interpreter at the park.
Not one of these accounts can in any way be associated with the D fords and specifically the two noted by Gibbon. Gibbon did not find anything at them, particularly the one he crossed, to indicate the presence of Custer's men. Not one man of the expedition in entirity gave any indication that this terrain was relevant to the five companies fight. The one exception is Bischoff and it makes you want to weep but he did what he did.
This is simple there were 210 killed. They were mutilated and they were friends and comrades of the survivors so just how much time do you think was spent looking at the Ford Ds area?
There is no basis for scientific conclusions that 7th Cavalry went to those fords. It is therefore supposition, that they did and whilst this is the facet of human ability which sets us apart, it does not validate any theory supposing Custer approached that terrain, fought there or knew that fords existed.
There are a few artifacts found at Ford D but the area was scraped for materials to build the new and current entrance road so where do think some artifacts if placed during the battle might be located today?
Getting back to server, Gall and D.F. Barry. It could have been that Gall was showing where the hostiles shot from and he was misunderstood.
Server spent time with senior participants as an interpretter. His account of the battle is very close to that of McLouglin who had excellent language skills available to him. The Cavalry turned off the ridge into Deep Ravine and..... got whacked. They fell back and got whacked again. Fighting at Last Stand Hill was perfectly visible from Weir Peak. None was observed. That is because the Custer fight was over when Weir reached the point from which he could see that terrain. The idea which is pushed is that Finley fought and fell, then Calhoun fought and fell and the Keogh and then Yates with Custer. Afraid not. They all went down togethher and another account from a bilingual Brule tribe member tells that Custer's Hill fell first. Could that make any sense? Yes it can if Keogh and Calhoun survivors fell back on it.
Then of course there is the boy genius (he was) Kuhlman. Ahem. Amen. Right, time for a blast of Big Country. I love the rythm..... It's a good day to....
Big Country -
Someone's screaming.
If I am completely wrong, do you think that.... Benteen could hear soldier's screams as they were dismembered alive and shot full of arrows by kids? I reckon that that could carry from Calhoun to Weir Peak. Any way to test it?
I don't think anyone is completely wrong when it comes to opinions. There will never be a finding of fact to end the formulation of opinions.
I think in regards to Benteen that he would simply have to look at the terrain and formulate how he would have approached getting to the other end of the village. If you are going across CR then sending other companies out BRE in mutual support makes sense and wise use of soldiers. Or the other theory is that Custer moved out BRE which starts on LSH and returned across CR to LSH. On Benteen's map he shows a line across CR.
What we know is that numerous cavalry artifacts were found during the construction of the older entrance road. That older entrance was photographed during the dedication of the new entrance road. In the background of the photo of a marching band you can see the old road and the Kellogg marker.
So you can opinion that Kellogg himself rode to the Ford Ds area or he was with a part of the main body. Myself I chose the later as being more likely. That the Cheyennes came from area in the flats and that Kellogg could not keep up with the withdrawal. I don't see him going across CR and then out of sight of LSH riding down to the end of BRE by himself.
Of all the places to get to the other end of the Big Village the Ford D crossings appear to be the best choice. I don't buy that Custer was looking to round up thousands of women and children. If the village was smaller and singular in nature of the family structure such as on the Washita then I might think that would be a plan. But if soldiers were capturing non relative of mine my reaction would be different than if they had my family.
Regards
BE