Post by keogh on Mar 4, 2020 23:35:24 GMT -5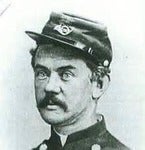 Yes, that was true for his testimony at the RCOI. But not for his private correspondence and written accounts.
How far would Martin have to ride from MTC and how long would it take? Even if Benteen takes 20-30 minutes to close up and water if Martin is still with Custer from SSR down to MTC and back that is a long travel distance and what time would that take?
Its roughly a 5 mile ride. I've got Martin making the ride in about 40 minutes or so (give or take 5 min. either way).
There is plenty of opportunity to look back as he passes Reno Hill. I don't think much would change of that view before he gets to fence post. On our Friends field trip we walked on top SSR an you can not see much of the valley close to the bluffs. Martin say he rode back to where he was with Custer and view the valley. Do you think Martin rode on top of SSR. If he did he would be an idiot and may have delayed the delivery of the note. Maybe he could have delivered while they watering.
Martin described the 10 minute halt atop the bluffs at a large hill. There is no point along the edge of the bluffs that could be described as a hill. From the south, SSR looks remarkably like a large hill. Later Martin would describe it as a ridge, which is what it actually is. Yes, I think Martin rode to the top of SSR during Custer's first halt atop the bluffs. If Martin says he rode back to the hill where he first saw the village then I have no reason to question it. As I mentioned before, there is no hill along the edge of the bluffs. Martin said "hill" not the edge of the bluffs.
I don't like Western because you are exposed as you ride down it. Also Curly states some road straight across which would be Middle and Martin has nothing to cross over as he states he did to get back to the route he traveled. It would be closer to Thompson but that distance would insignificant to a well mounted Custer.
Western Coulee would only be exposed to the north -- as would Middle Coulee or Cedar Coulee, for that matter had there actually been any warriors in large numbers there. The Crow scouts were covering the left flank along the line of bluffs later called upper 'Boyer's Bluff'. The current road naturally follows Western Coulee down to MTC. Martin would cross over the ridge separating Western Coulee from Middle Coulee to move back in a more direct route to the hill (ie. SSR) where he first looked into the valley. He would likely cross over into upper Cedar Coulee where he would meet up with Boston following their trail across the bluffs. That's where he marked the location on Camp's map.
I admit that my bias comes from riding different areas and forming an opinion. Riding down Middle several times stopping at the end of the loaf observing there is a flat there where you can observe a lot. I went there with my Marine/Crow friend. He showed me how to go exactly what another Crow (Curly) stated they went. He didn't go that way knowing that way would lead to Luce. We were both surprised where we ended up. We had been north of there a few days before with several persons but we were in vehicles and looked at Luce from a distance to the south and east. The route with my friend goes down Middle then straight across, egresses MTC at a well known egress point, but it turns east and then climbs out at Luce. At this point concealment is less of issue in my opinion. Getting around the Big Village is more important.

Regards

Steve
Its an interesting model that tends to support your view (and Fred's and Donahue's) that Custer's main objective was the capture of the noncombatants via the Northern Fords. As I don't ascribe to that model at all I find no reason for Custer to direct his command down a ravine (Middle) that would take him further away from what I believe would be his primary objective at that time: the crossing of the river at Ford B. Only Western Coulee opens into MTC 600 yards east of the river, where Martin was sent back.
garryowen,
Bill