Post by benteeneast on Apr 18, 2011 8:15:40 GMT -5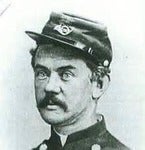 Benteeneast
Thompson encounters a total of 20 Indians the first day, not 50 as described in earlier threads. Though there are many in the vicinity.
Gerry
So my original statement as posted above is correct and that last statement of yours is not. You defined a subset of his encounters to include only those that he numbered and he thought they recognized him. That should include the 30 friendly Indians also along with some numbers he did not list.
Regards
Steve
Let us not forget that Watson tells Thompson, "
While here we have seen more Indians twice over than the combined
strength of the Seventh."
Now how many do you suppose that number would be?
My point on the numbers is: that Thompson saw many Indians, his encounters was with 20 different Hostiles the first day. Each of them saw Thompson and Thompson knew it. All other Indians were participants on that day.
Gerry
I still disagree there were 30 Rees that Thompson claims he saw and talked with some. There were friendly Indians that were shot at by the 7th. Maybe from the same group. That was an encounter. If you trying to produce a timeline and give Thompson any credibility you can't ignore his Ree encounter.
You were trying to correct my number of 50 of encounters with Indians from my original statement by giving it a subset condition of my statement. He only saw one Indian circling his horse which would be a subset of the the total Indians he encountered for instance.
Why do you think that Thompson seeing Indians coming toward him and then he hides is not an encounter? I am sure his heart was pounding and anticipating discovery. It was not relevant to me when I made the original statement of 50 encounters what the total number of Indians present in the LBH valley and surrounding area. It is only those that he came upon that caused him to take notice or action in close proximity.
Basically I think you misconstrued my statement and put your own meaning to it.
Regards
Steve