Post by benteeneast on Dec 19, 2012 8:38:32 GMT -5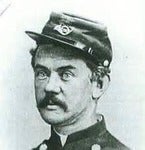 I believe the distance between FAL and Montana is about 400 miles, no?
And the 7th rode it. So what? The same carbines were at FAL and the battle. There is a small potential to find tool marked cases at FAL to match battle related cases found by trained archeologist. Are you "suggesting" there were no cases or unfired rounds left at FAL that someone could find or that they never fired anymore umarked 45-70 rounds? Could you tell us what the difference would be of fired unmarked cases found anywhere else that would allow you to tell it was not battle related?
Regards
Benteeneast
Are you suggesting now that someone picked up cartridges at FAL and carried them 400 miles to LBH to deposit them on the battlefield? Do you really think that's a likely explanation for over 200 cartridges found on Luce-Blummer Ridge complex? This strikes me as nitpicking over nonsense, Steve.
regards,
keogh
Only you make suggestions such as archaeologists have examined Blummers found cases and determined they are battle related. What I am stating is that you can not eliminate other sources of contamination and if someone removes artifacts they are of lesser value. Do you have any archeologist that would disagree with that?
That I provided an example of potential sources of contamination in the off site pool of period correct cases and cartridges in todays market of "Custer Battlefield" artifacts is something that any investigator should take into account.
It is only you that has made suggestions that those off site cases and cartridges have been determined to be battle related.
I stick with I stated that Fred has stated. He did not state that some archeologist determined they were battle related did he?
There is a huge difference between being consistent with the time period which includes all cartridges manufactured that are period correct and stating that an individual case or cartridge is battle related.
To think that no one tries to make a profit off of a period correct cases or cartridges that are not battle related seems naive to me.
When these cartridges were found were the finders the owner of the property and if not did they give thier findings to the property owners?
My understanding is that Blummer (Nye-Cartwright) and Luce were private lands when these findings occurred. Do the Crows have a claim on these artifacts?
You have no problem with suggesting that Jason Pitch found lots of period correct cases and cartridges and claimed they were found somewhere else. So how do know that there is only one Jason Pitch? Investigators don't names unless they are sure but the don't through out potentials just because the don't have conclusive evidence.
There is an eleven year gap from 1928 to 1939 and certainly the site was identified and not protected. The next gap is even larger 1939 to the 1960's.
In the 1928 discovery letter a knew theory of Custer's movement was reinenforced by finding 17 cases. What would you need to increase the probability of changing the theories from MTF area to not even coming close to it?
Regards
Benteeneast