Post by benteeneast on Nov 12, 2017 9:09:35 GMT -5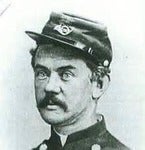 I already referred to the story of Gall & the Barry photos in my last post, and this first-hand account does not even hint at the possibility that there was a cavalry attack against Ford D. Gall, like Wooden Leg, only confirms that cavalry dismounted and fought on foot at Cemetery Ridge. If Donahue has at last located an eyewitness account bearing out an offensive move against Willy's Bend, great, but I'm afraid we'll have to wait till his book is released before reconsidering the question.


So the answer could be as simple as what direction did they go onto the battlefield and at what time. If you go against Reno or cross the river at Ford B and move toward the north you may never have seen anything further north. In fact that could be an indication they were telling the truth.
I think Gall arrives as Custer is moving back across CR toward LSH. At any rate Gall places Custer on CR which is past LSH. As far at photos they have the kneeling infantry shooting in two directions and in one photo the direction is toward BRE.
There is nothing about cavalry for me that indicates it waits for more soldiers before attacking. I believe Custer with the main body was in full attack mode and would apply as much force as possible. I can't imagine that Custer waits so that Reno is out of the valley rather than move on offense even if Reno performs a breakout. Custer could have hit the other end of the village if he had not been opposed in my opinion.
I think Gall is an eye witness that Custer went past LSH. Kellogg's marker is along that line. The artifacts found when constructing the road include uniform parts along with revolvers. The Indian firing site is below the military crest of CR and can only fire at BRE, Crazy Horse Draw, or Cemetery Ridge indicate action beyond CR.
I would like you to mark where you think Ford C would be found and next year I will try to find something that cavalry would consider for crossing while moving to contact.
Regards
Steve
Steve,
I am in total agreement with your post above. I also think that Custer went past LSH, then turned left towards the river. I also think that Gall was a latecomer, and therefore he knew of Custer's previous movements by the warriors who actually opposed his intended attack upon the lower village. The accounts and sketches of these eyewitness, however, support Gall's contention that the route the soldiers took in order to reach the river extended for one thousand yards SW from their starting point at LSH (westward to Ford D is 2.500 yards). This means that Gall probably saw the dismounted cavalry fighting on CR (about 500 yards from the Monument, i.e. "half way to the river"), but not Custer's attempt to get across the Cheyenne ford, traces of which were reported by Gerard:
"I was there [Custer's battlefield] during the whole of the time they were burying the soldiers. I made no discoveries except this ford. When I came to it I saw from the marks that, as I supposed, Gen. Custer had attempted to cross there, that he had been delayed some little time, and left it. I only judge from the signs I saw at that ford". (Nichols' RCOI, p. 104).
Where we disagree is about the intended destination of Custer's turn at the end of BR. You give credit to JSiT's uncorroborated hearsay story, first known 80 years after the battle, that Custer made a 120º turn towards Ford D. I consider more reliable the accounts and sketches by actual participants –many of them immediate to the battle– indicating that Custer made a 90º turn towards Ford C. Since I give more credibility to first-hand accounts, I must conclude that all the artifacts found along the way to Ford D were not the refuse of the Custer trip JSiT imagined, but were left after the battle by the hundreds of troopers who rode across that ground in 1876, 1877 and 1878, or by the many warriors dressed in uniforms and riding cavalry horses, or by fugitives or horses fleeing across the area, or by natives discarding useless or broken items.
Now, I'm not saying that the Ford D turn is an impossibility. It makes tactical sense, specially if DeRudio was right and Custer had been previously informed by his scouts that Ford D was the best crossing area for a large cavalry force. It is, however, improbable, because there are no eyewitnesses recalling that the cavalry reached that ford, frequently crossed in the following days by Reno's and Gibbon's troops, none of whom saw signs near this ford of a crossing attempt (they did at Ford C) or traces of its being approached by a cavalry force (they did at Ford B).
Maybe Custer's intention, while riding along BR, was to continue all the way to that excellent northern ford reported by his scouts. But the testimony of participants is overwhelming: at the end of the ridge –or at the beginning of its extension– he turned left and rode towards Ford C, probably following a large lodgepole trail. It would be likely, however, that he detached a small force to recon the Willy Bend fords, watch his right flank and dissuade any noncoms of crossing and fleeing eastwards while he seized the village. After all, keeping the hostiles on the west side of the river had been one of the purposes of his move down the east bank.
I understand that nowadays there is no natural crossing point in the stretch of river where witnesses placed the Cheyenne Ford in 1876. It seems that the channel of the river has changed. Nevertheless the ford, like Gerard recalled, was within three quarters of a mile from Custer Hill, and it was photographed from Custer's death site in 1877 by Fouch, in 1879 by Morrow, and in 1883 by Barry. This is the original caption to the Morrow photo in the National Archives Catalog (Record Group 111: Records of the Office of the Chief Signal Officer, 1860-1985):
"Scene of General Custer's last stand, looking
in the direction of the ford
and the Indian village."
There is an excellent online reproduction in Wikimedia Commons. If you zoom the river, you will see the four-tent camping site of Captain Sanderson, named by Morrow as "the camp at the ford".
Note that this view from LSH down Cemetery ravine to the ford below was equally impressive and full of significance to these historical photographers, the three of them repeating the same view between 1877 and 1883. If on June 25th a large trail was running down the middle of the photo straight towards the river, I can understand that it attracted Custer like a magnet, specially if the cavalry had marched undetected behind BR and little or no opposition was expected at the crossing below –not unlikely if most warriors were still facing soldiers north and south of the village (Ford B and Valley Fight).
Jose
Jose
I try to keep open minded about the theories. Fred, Scott, and Donahue have Custer north of LSH which eliminates for me some of the theories that it LSH is where Custer was pushed to and never went past it.
I think importantly that we may even agree on what you are calling Ford C and what I call Ford Ds. I picked up the Ds from Gordie and because of that it is what I will use. So Ford Ds to me means basically any crossing from about the NPS road that goes to the river around to the current highway or Willy's Bend. Certainly in the theory that all five companies moved north it has HQ,E&F moving out toward CR and the other three companies moving out BRE. In that theory it would not be hard to believe that they would attempt to cross the river at two different locations and what you are calling Ford C would be a potential and match one of Gordie's Ford Ds.
I apologize for such short responses but I am involved in teaching classes and it is close to their graduation so we have been busy with rifle class, use of force scenarios, and the final patrol skills classes.
I would like to see evidence of and old road using BRE. The current road required cutting a gap through BRE. The older road which is at the end of one branch of BRE continues on toward the Crow Agency and toward Fort Custer which is a substantial distance away. I can't believe that much shooting and training was conducted on the battlefield. There are lots of cases to be found at the Fort Custer site and you can buy them from the private owners at their store in Hardin. Seems to me a round trip from Fort Custer to the battlefield would be close to 30 miles. Doesn't leave much time for training.
If you follow the main branch of BRE it heads toward the Trading Post and associated current businesses. There were some markers there at one time as noted by an NPS employee.
Regards
Steve