Post by keogh on Jun 11, 2012 15:10:10 GMT -5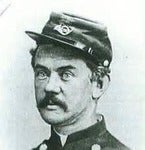 Thankfully for Reno, Benteen was only minutes away from cutting that noose with a sharp knife. And yes, there certainly was more than sufficient evidence to indicate the Indians came into the timber shortly after Reno's troops were recalled from their firing line and ordered to mount their horses. There was no resistance at that point to keep them out.
When you take cover in an area familiar to your enemy they know all the terrain features of that cover and its weaknesses.
Luckily for Reno, he chose a defensive position that had very few weaknesses. It was described by some as a natural fortification with close access to water. And yes, as you indicate above, the Indians were familiar with this area and knew all the terrain features of that cover and its strength, which is why Grinnell's Cheyenne informants told him,
"had Reno remained in the timber, the Indians could have done nothing with him."

They only needed to block the valley escape route and then they could defeat them from above and within the timber. As Sgt Ryan stated they needed to exit the timber.
Whether the Indians cut off Reno's escape from the timber, or whether they cut off Reno's escape from the bluffs is of no matter. The timber position was eminently more defensible than the exposed bluffs and it was doubtful that Reno could get his command to the bluffs in any event without destroying his command in the process. The only thing that saved him from utter destruction was Custer's attack at Ford B and Benteen's arrival. Had Reno remained longer in the timber, he still would have been reinforced by Benteen and Custer would still have attacked at Ford B, the only difference being that Reno would have had his entire command more or less intact.
French thought it was Custer coming through the timber which should be considered when calculating the number of Indians in the timber.

Benteeneast
Spoken when Reno had already abandoned his defense of the timber and fallen back to his horses. Clair is also correct to suggest that French's observation was made across the river beyond the Garryowen loop, as it would be quite impossible for any large group of horsemen to charge mounted into and thru the thickly wooded timber position that Reno was defending.
garryowen,
keogh