Post by mikegriffith on Sept 20, 2013 4:23:32 GMT -5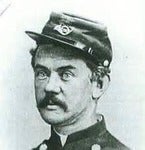 That is my opinion of why Reno would not order a rear guard action. It would not be effective when the main body is running away at full speed.
It worked for Godfrey because Reno moved before the Indians surrounded Weir Peaks and the Indians were coming from one direction.
That would also be my thinking of what Reno did wrong. He waited to long to move away from that large number of warriors. He may have been helped in his decision making by his other company commanders.
I don't know if the Godfrey approach to slowing the Indians would have worked in the valley because of the terrain where they could ride around the flanks.
If you think about it all 3 companies were on line and it didn't slow the Indians one bit. They flanked the skirmish line and began to circle it. Why should we think a rear guard would be any more effective at slowing the Indians.
Regards
Benteeneast
So Reno didn't need to order a rear guard?! He got 32 of his men killed and 7 more wounded in his panicked flight from the timber.
The Indians certainly approved of Reno's decision to leave the timber and of how his retreat was conducted. Red Feather:
When the soldiers got on their horses, it would have been wise if they had stayed in the woods and shoot from there. . . .

Some Indian shouted, "Give way; let the soldiers out. We can't get at them in there." Soon the soldiers came out and tried to go to the river. When they came out of the woods, they were excited and scattered. (Hardoff, Lakota Recollections of the Custer Fight, p. 83)
And:
When the soldiers got to their horses, they retreated. There was a place deep in the timber that was a good place for defense, but instead they took to the open country, which made it easier for the Indians to catch them. (Lakota Recollections of the Custer Fight, p. 85)