Post by keogh on Aug 18, 2015 14:45:19 GMT -5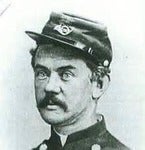 A good number of accounts place this event on what some have called 'Mathey's Knoll', about a mile or so south of Reno Hill. As Mathey's Knoll is past the lone tepee, Churchill's statement above is correct.
Not only that he also testifies to seeing a single mule stuck and several pulled out with their front legs in the morass. Were those ammunition mules or others from the pack train?
Churchill does not specify. They might have been ammunition mules or they might have been HQ mules or B Co. mules. Any one of those possibilities would logically fit.
Since the pack train in travel status had specific designated companies mules and those went with the company when stopped for the day. I think this movement to contact allowed the mixing of the company mules to facilitate the rate of travel. It let the slower ones drop out and go to the rear.
That's certainly very possible.
Asking a packer with the ammunition mules was not the right person to ask regarding the rate of travel. The troopers with the ones that dropped out would have a different opinion.
Very likely. I think the ammunition mules were moving between a mile to half a mile an hour faster than the main pack mules.
A question. Did McDougall have to remain behind the slowest mules or did he pass some and leave them behind the rear guard. If he had to keep them ahead of his rear guard and it was a mile from the lead then they slower mules had an effect. That would be one of the reasons to regroup before moving to the bluffs. You can't defend a mile of exposed flanks.

Regards

Benteeneast
For most of the way down Ash/Reno Creek there was no need for maintaining an active defense of the train. The packs simply followed along the main trail, confident that any large force of mounted warriors would have to first get past Benteen, Reno or Custer in order to reach them. I don't think McDougall allowed any of the packs to fall behind the rear elements or platoon of the rear guard at any time. They would have waited to move them along. McDougall was free to ride at the head of the train or its rear according to his desire. When he got word that the command ahead was engaged in battle, he chose to halt the pack train to close it up, with the rear guard divided into two platoons, one forward of the train and one to its rear.
garryowen,
keogh