Post by Deleted on Aug 31, 2016 16:31:45 GMT -5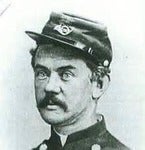 When you say there were no two markers, I think there were lots of two markers and for the same person.
I know that there is a marker placed where Weibert found remains near the Birdinground property.
Steve,
On May 1, 1890, CPT Owen Jay Sweet, Company D, 25th Infantry, left Fort Custer. He was preceded (on April 29th) by 2LT Samuel Burkhardt, Jr., and two enlisted men to mark the reservation's boundaries. COL James Brisbin may have been with the party, probably as an advisor since he helped bury the dead in June 1876. Also, scout James A. Campbell, who was with LT Roe in 1881, accompanied the expedition. Sweet was originally given 249 markers. He erected 246 on the Custer field, and two—for McIntosh and DeWolf—on the Reno field. One marker—for LT Porter—was returned to the Post QM.
Only 217 "resting places" had been found marked. These excluded Autie Reed and Boston Custer. LT Porter's was not included. At Brisbin's direction, three headboards were placed for Autie Reed, Boston Custer, and Marc Kellogg, and four unburied, "bleaching skeletons" were found while they were on the field. The headstones were placed between 10 – 20 inches from the mounds where any bones were found, but nothing was placed in Deep Ravine. As of today, there appear to be either 43 or 44 paired markers, especially since one was added in the 141 – 142 cluster on Finley-Finckle Ridge in 2000 after photos taken in 1894 and 1995 were compared and one marker appeared missing. While replaced, this marker—based on the number of men in Custer's command and its proximity to its fellow—appears paired.
Sweet's work was completed by May 12, 1890.
In 1891, the U. S. G. S. sent a topographer, R. B. Marshall, to the Custer field to map out the marker placement. He mapped 244 markers, a discrepancy of two from Sweet—and only one year from when Sweet placed his 246. It also appears the marker map produced from this survey is erroneous in many areas and was incorrectly marked, bearing little correlation to the accurate work done in 1984 – 1985. This is not a map that should be considered when attempting to determine where soldiers fell.
Since 1890, six more marble markers were set up. That makes an overage of 42 on the Custer field; 43, counting the one placed in 2000.
When we were there this past June, we found and photographed that Webber marker in the valley field. Obviously, one of Reno's troops fell there.
Best wishes,
Fred.