Post by benteeneast on May 31, 2017 23:29:54 GMT -5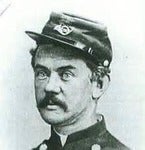 It was conclusive that there were some Indians there but this was not one village traveling together from the trail Custer followed. There were lots of other who were there and did not arrive by the route Custer followed. That would cause and underestimation of totals and I believe only discovered when Custer moved north of LSH.
Did Custer believe it? Yes.That is debatable at least by some of the sworn testimony.
If they are all there and north of the junction with Reno Creek then what exactly was Benteen sent to do? Hours have passed from when Custer and the scouts viewed the village. Due to the well known fact that Indian villages are mobile, Benteen is sent to prevent movement to the South.
You really think that the fastest route to the LBH river to cut off movement south along the LBH is the route Benteen was directed to take? I think Benteen was sent to block SFRC. If you believe he was to go all the way to the LBH river then for sure you believe he disobeyed Custer's orders. I think Benteen testifies that he could return to Reno Creek and also testifies he disobeyed orders. So take your pick.
Who was running down Reno Creek in front of Custer? Indians, mobile Indians.
So they weren't all in the Big Village.
Is it your opinion that no Indians could be located south of the horse herds observed on the LBH? No. Do you believe it would be impossible for the Indians to have prior knowledge of Custer coming down Creek? No, in fact they thought the Indians might have spotted them So if they flee south then Custer has followed the trail disregarding Terry's suggestion. Right? No....Benteen was to send a messenger to Custer and pitch into those Indians, preventing escape to the South.
There is no way that Benteen reaches the LBH before Reno and there is no way to stop the Indians from fleeing if they had decided to do so. The could have fled in any direction including north since Terry would not be in place yet according to his order.
You are using hindsight to locate all of the Indians in the Big Village.Not at all. I have never stated that ALL of the Indians would be in the village, just the opposite, It is past noon, I would expect many of the males to be miles away from the village in all directions. That proved to be the fact when Indians were located at the divide watching Custer. Custer may not have even believed the scouts but for sure he would be would be worried since to get south of the junction of Reno Creek for the Indians it would be easier then moving all the way down Reno Creek from the Rosebud, up Davis Creek, crossing the divide and then down Reno Creek. Not sure what you are asking. But it seems the Indians have already decided on the direction they intended to travel. Custer only needs to concern himself on where the Indians might move from the location they are presently camped. Not that complicated if you ask me. Benteen is sent to prevent one option available to the Indians. Custer and Reno will move to prevent any other problems that might arise.
Bingo is a game of chance and there is only one winner most of the time and the rest are losers. Military operations on the other hand are geared toward success without as not as much reliance on chance or luck. Bingo....with the goal of only one winner.
Military actions should no be based upon luck. Feeding the 7th to lots of Indians willing to fight a few companies at at a time is not a good thing. Letting them prepare for battle serves no useful purpose. Not knowing that the Cheyennes were getting thier horses from north of the Big Village and that they saw Custer moving toward their families in the Big Village is not favorable to success by the 7th.
Benteen told Custer using foresight that the 7th should be kept together.
When Gordon Harper writes about the routes of Indians to the Big Village he has thousands not taking the route or trail that Custer was following and among those with Custer such as Godfrey, if I recall correctly, thought they were following a smaller number with many campsites used on different days rather than a larger number using multiple campsites on the same day. I am not sure why you keep using that statement when I have posted that same thing many, many times. In fact, I use it to show why more information would not give Custer a better idea of what he was about to face. They were unable to correctly understand the information at hand. I know they did not stay in a Holliday Inn Express in Busby so there is no way he would get smart overnight.
Benteen had sufficient foresight to tell Custer to keep the regiment together. I do not believe that Custer would have done what he did if he believed the Indians were not running and the total numbers willing to fight. Since he did not turn to the until they were close to the LBH any scout could find a location to look down the river and see the Big Village was still standing. Also according to Gerard Custer would have been given information that they were coming out to fight rather than making a dust screen to protect a fleeing village.
I wish you guys would get it straight. Bill suggests a total of 138 miles of the LBH and Justin suggests Custer would not get as far as the Rosebud Battle field if they followed Terry's order. This has been covered in detail.
Regards
Steve
Custer knew the village was not fleeing and thought he had caught them napping. Instead they came out to fight Reno by moving to his flank and then attempting to encircle him. The Cheyennes are getting prepared for battle and see Custer moving toward thier end of the village. They crossed the river and prevented Custer from getting to thier families.
Regards
Steve