Post by mikegriffith on Nov 4, 2016 7:13:34 GMT -5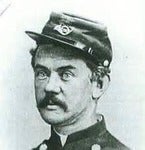 The issue of concern for me is Custer has a lack of concern in conducting recon and scouting. I haven't read to many of these scholars as having served in positions in the military. Since Herendeen was along Custer had the information available to him from two years before in the same area. We know that SFRC is an Indian travel corridor and that at least one fight took place there. We know there was a fight at Lodge Grass. More importantly Herendeen knew.
Terry stated the Indians would turn but he wanted Custer to continue. That is one point of disobedience that Terry made. What could have Custer found with one more day of scouting. Evidence of a large body of warriors without women, children, pony herd, and infrastructure.
The second point of Terry's was not sending someone through Tulloch's to Terry. Care to share with us Mike where a commanding officer orders you to something and you think there was sufficient reason to not do it.
These were Terry's two points of disobedience and no matter how many scholars look at the order and what Custer did it will never change the facts of what Terry wrote.
My concern is based upon Custer's decision making in regards to the Indians. Custer if he had continued scouting at least one day and even if kept his regiment at the turning point he would have discovered the Indians willingness to fight from the evidence on the ground. That would support Benteen's concern of keeping the regiment together.
I think Custer knew something through Herendeen regarding SFRC and how many Indians could be in it. I think it was the reason for sending Benteen with 3 companies rather than a single platoon of better horses.
The bottom line is that you can rant all you want but it will never change what Terry wrote in regards to Custer's disobedience. It will stand forever that Terry who was Custer's commanding officer and the writer of the order wrote Custer disobeyed the order in reference to two specific points in the order. Since Custer was dead there was no action taken. Since Custer did not complete those two specifics as ordered it will always stand as fact that Terry pointed out the disobedience.
You can suggest all kinds of what ifs or opinions of what the order meant but it will never change what Terry wrote. You want to deal with hypotheticals which are numerous in nature. Try this. Custer moves down Reno Creek and the Indians flee up SFRC moving around Custer's left. At the same time a group of Indians in Tullocks move around Terry's left.
Crazy Horse moved up SFRC and to the Rosebud. This occurred after any move up Davis Creek.
Regards
Benteeneast
And you can continue to argue that the Earth is flat, but it's still round, and that's why you are in a tiny, dying minority. And, by the way, initially Terry did *not* accuse Custer of disobeying his orders. In his first report, Terry said nothing about any alleged disobedience on Custer's part. That claim came later.
Finally, I would again point out that Custer's enemies clearly did not think Terry's orders as originally written proved disobedience because they used an altered version of the orders to accuse Custer of disobedience. What did they not see that you see or vice versa?