Post by markh on Nov 30, 2015 20:40:09 GMT -5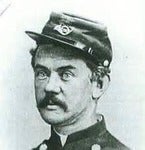 I agree that there is a good possibility that Reno was asking what the Indians would do next just before Bloody Knife was shot. I think this is a good point in regards to decision making. I teach officers that they building a tool box of training and experience to draw from when making a decision. I believe Reno had little to draw from in regards to being surrounded by overwhelming numbers of Indians. His Custer examples would be retreat/retrograde at Washita and the Yellowstone Expedition. The breakout I believe was caused by Reno's decision (error in my opinion) to move the horses into the timber.
I think it also shows you have to have a great understanding of all the other fights that had occurred - tell those officers (I was one so I can say that) they need to study their recent history of their opponents and their actions. The Army conferences in 1875/76 should have enabled those exchanges. Even in 1876 officers studied other campaigns or talked tactics and operations. Obviously both Crook and Terry (through Custer) knew to have truly mobile columns to get to the villages. That was not accidental.
I think the majority of Indians may have been out of range. That they were circling and closing in was also true. So how close do you allow them to get? Crazy Horse was late but was going into the timber after them.
BK was shot at close range. Just how close would that be since the troopers were in the open area within the timber.
My thought on this is that BK was shot due to the following. AS the troops were lining up the horses in column of 4s - IT was taking a lot of time. When you read the various accounts you see comments about 1. troops talking about leaving and telling others, 2. others talk about lining up and the Lakota getting closer, 3. others are trying to find horses, ignoring orders ..etc. I think that Reno disrupted his fire so significantly that the Lakota immediately started closing the gap. No one was returning fire, so they got to the 200 yd range where real damage can be done. One of them takes aim at the leader (Reno) and hits BK (I don't think BK was the object of that bullet). Reno then dismounts and mounts again, and I think this action is NOT entirely a result of BK's brains splattering Reno. The Reno mount, dismount, mount, occurs more from Reno trying to decide whether he needs to get the Lakota off his back by reestablishing the skirmish line OR trying to decide if he needs to evade the rapidly closing Lakota. At first he thinks I need to back them off, and then he looks back - he is in column of 4s and realizes there is no decent way to move to the skirmish line without a lost of cohesion and some significant casualties. HERE Reno becomes a victim of his earlier choices. At this point I believe he led his column out, because he had put himself in a situation where if he stayed mounted he could only lead them out.
I agree that there were only a few within range in the timber but it was compromised in more than one location.
I disagree that the troopers and civilians were hid from sight of those in the timber. I believe De Rudio even called out to them thinking one was Tom Custer. What I believe is such a small number was not worth the individual effort. No command and control so they could not order other Indians to move in force to get the remaining few.
I just believe that the timber was thicker and that if the Lakota knew there were 15 Cavalrymen and a crafty frontiersman in the timber then they would have enjoyed trying to remove their scalps. I don't think anyone everyone wanted to play Cat and Mouse with a Lakota warrior.
I could see a conversation like if you want them go yourself.
As far as the Indians coming quick I believe that is correct. I believe French and company went from the skirmish line to their horses and mounted. Apparently he had no thought of defending the timber. I suspect they were waiting for the rest to mount.
This is an interesting thought, and I don't have a strong opinion here. Did Reno lose control of his formation by going to the timber, and thinking that his line would not shift? Did it shift to get back towards the horses and ammo? Did it do this naturally as it was being flanked? Did Reno think his troops were going to flee when he saw them trying to get more ammunition from their horses? These are all possible, but I don't think the battalion is retreating to the bluffs without Reno giving them orders and getting them organized to do that (not enough casualties). As soon as that word goes out, then Reno's men are mounting and thinking of getting away. The thought of retreating is never a good one in the minds of men. That is why ol' Chesty said Retreat Hell....he was fighting his way out, one valley at a time (probably with his China knife in his hand).
Regards
Steve
Good Stuff
VR
Mark