Post by markh on Nov 25, 2015 14:20:14 GMT -5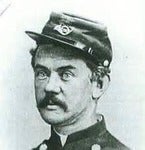 I think they were 90% to his front, but the threat to the flanks was constantly growing. He has to leap frog back.
Which direction would the troopers be firing to be effective in making hits on those on Reno's flanks and to his front?
Agree, once he lost the initiative and without refusing the left - he couldn't. He literally would have had to form square, and I think that was WAY WAY beyond what a cavalry unit would do. However, he probably could have held that timber longer. I do believe that he wasn't getting much help from his company commanders - it reads that way in the narratives - they seem to just be there.
I think sometimes it is how we envision what is going on that we form different opinions. I believe the Indians were on the bluffs on both sides of the valley and were in large numbers to his rear which became his front in the retrograde/retreat.
I also think they were on that side of the river in small numbers. However, it would be disconcerting to be back shot.
My opinion is that Reno should have never dismounted until Custer was in sight.
Interesting, I don't know how well they could fire from the mount. Some could adeptly, but some lost control of their horses.
Reno should have never moved the horses to the timber before gaining effective range of the weapons.
Strongly agree, worse error, and it leads to being flanked faster. However, a couple of folks stated he would have been mowed down, and then he did move them up a little bit. Lots of counter arguments, but I think that was a significant error.
The proper tactics to move from the timber other than what was done has long been an area of discussion and it would be interesting to see one that could have been more effective.
Should have leaped frog. No rear guard is an error. Have French hold a line he probably would have. Then Tosh and Moylan form a line, and French withdraws behind that onto the bluffs, and slowly fall back. "Don't run from them men". Of course I say this without being surrounded and outnumbered by mad Lakotas.
Regards
Steve
Steve, do you believe that if Benteen had been in charge of those three companies he would have held the timber? I do. Sometimes you need someone with the right - you ain't going to whip me attitude. Most commanders wouldn't have that attitude, but Benteen is one that I don't think took crap from just about anyone.
VR
Mark