Post by keogh on Jun 2, 2019 17:46:57 GMT -5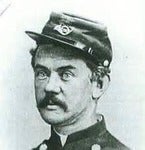 I believe the overwhelming majority of the warriors facing Reno that day did just that. I don't believe the flanking parties amounted to very many until the skirmish line was seen to fall back to the timber position.
I think this goes on when you should make the best available decision. My thought and what I attempt to do is to take action before things go bad. Casualties should not be the indicator to make the best available decisions unless it is enemy casualties. You should want to move before the enemy fixes and destroys you in place.
I agree with those sentiments, with the understood proviso that making the best available decision should not entail a fatalistic presumption that things will "go bad" or that the enemy fixing you in place in the timber -- along with the more important fact that you are fixing the enemy's attention on the threat of your force in the timber -- will necessarily result in the destruction of your command. If a commander has so little faith in the capability of his men in combat then he has no business leading them into battle. That kind of military mindset reminds one of the words of Julius Caesar who said,
"I would rather fight an army of lions led by a sheep than an army of sheep led by a lion."
If a commander acts and thinks like a sheep it will surely have a negative impact on the fighting ability of his men in combat.
Ryan gives his impression of the soldiers from long before they went into this battle. A lot were not in the military for a sense of patriotism and a strong belief. I think we argue apple and oranges a lot. You think that what a cavalry unit with all the skillsets and abilities is that same as what was there in this battle. I don't and therefore the best available choices are based on what you have and personal observations rather than what a battle ready command should be capable of.
I don't fully buy into all of Ryan's post-battle convenient excuses about the alleged lack of training that supposedly affected the outcome of the Reno valley fight. These were the very same caliber of troopers who joined the cavalry for the very same reasons in 1868 when Ryan described their intensive training in the field. These were the very same troopers who fought remarkably well when properly led at the 1st and 2nd Yellowstone Fights only 3 years earlier, where in the latter Custer did indeed fight them mounted. I suspect that a lot of Ryan's comments post-LBH were self-serving attempts to find a reason for the disgraceful conduct of a routed command. From his perspective it was better to blame what happened that day to a lack of fundamental training than to point out the painful fact that they were poorly led by a deficient officer corps that day. As you know, Ryan was personally very loyal to Major Reno and did all he could to cover and excuse his obvious deficiencies that day. More to the point, here is a more objective observation made only a few weeks after the LBH battle regarding the training of the 7th Cavalry:
The following observation of the 7th Cavalry moving out to contact with a potential enemy was made by Capt. Charles King of the 5th Cavalry in August 1876, as recorded on page 72 in his book Campaigning With Crook. It reflects the level of mounted training in the field the 7th was noted for:
"Another minute and I have reached the bluff, and there got a good view of the coming host. Indians! I should say so -- scores of them, darting about in equal excitement to our own. But no Indians are they who keep in close column along that fringe of trees; no Indians are they whose compact squadrons are moving diagonally out across the broad plain, taking equal intervals, then coming squarely towards us at a rapid trot. Then look! Each company, as it comes forward, opens out like the fan of practiced coquette, and a sheaf of skirmishers is launched to the front. Something in the snap and style of the whole movement stamps them at once. There is no need of fluttering guidon and stirring trumpet call to identify them; I know the Seventh Cavalry at a glance, and swing my campaign hat in delighted welcome."
Out of range in this case included point blank range with a revolver. Taylor I believe misses when he sure and Indian is focused on him.
Yes, I believe that incident occurred during the mad retreat out of the valley.
How do you know the number of Indians that moved around Reno?
Fred Gerard's testimony at the RCOI as reported by the Pioneer Press:
"The Indians were then circling around to the left. There were from fifty to seventy five of them."
Benteen states 800-900 that is quite a handful I would think.
Benteen made his observation after Reno's command had already fled the valley and ascended the bluffs.
If Indians could shoot one of French's troopers that would be in range.
One lucky shot -- a wound in the hand -- over a span of at least 20 minutes shooting, does not indicate that the warriors were in effective range, else there would be far more casualties suffered by Reno's command.
If BK was shot that would be in range.
Yes, several warriors did move up into close range when Reno allowed his defensive line to collapse and fall back to their horses in the bottom. My reference to the Indians remaining well out of range pertained to the 20 or 30 minutes Reno's skirmish line remained active in the valley -- not after it collapsed into the timber bottom.
If an Indians can make a hit then the weapon systems the cavalry had were capable of making hits but they are just the tool. You have to be able to make hits or discussing range is limited by ability.
It seems the warriors kept well out of range of Reno's valley skirmish line regardless of the latter's ability to make abundant hits.
The Indians were around 200 yards from the timber when they broke out. Some were in the timber.
Yes, the warriors moved into closer range -- many about 200 yards away -- only after they realized Reno's men had foolishly abandoned their defensive line and simply fell pell-mell into the bottom. At that point, nearly all resistance had ceased.
Moving back from the advancing Indians long before they flank them would be in their skillset. It's firing while moving that was not.
Once the warriors saw Reno turn his battalion about and start to fall back they would have been on them like flies on manure. What was to prevent this withdrawal from devolving into another rout to the river?
The problem I see is that it was never going to work with only Reno's battalion in valley except for a very short time.
Beecher's Island lasted 8 days. The 1st Yellowstone Fight lasted 3 1/2 hours. The same could be said for the Baker Fight, the Wagon Box fight, the Hayfield Fight. Reno had an excellent defensive position to hold, with Benteen and De Rudio claiming he could have held the position for at least 3 hours with the ammunition he had at hand and good fire control.
I don't think that even dismounted that they made hits like those with 1874 Expedition.
Agreed. Hits are a bonus, but it didn't take many hits to keep the mass of warriors beyond effective range while Reno's skirmish line remained active in the valley. The same thing occurred in the defense of Reno Hill. The lack of effective hits played little to no bearing on Reno's successful defense of his hilltop position.
Keeping the 12 companies all together would at least have all the best shooters in one place. Firing at the horses in the village does not take much skill but it would sure raise a commotion with the horses.
I agree that what you suggest above would be the safer and more cautious course of action. I have no doubt that if General Terry or Gibbon or Gen. Sully were in command that day that is exactly what they would attempt to do.
I think Reno dismounted because he thought Custer would be there in less than 20 minutes. Once Reno dismounted just how far could he move from his horses? Reno never got to make his decision based upon Custer taking up to an hour to arrive at the other end of the Big Village against the Cheyennes.
Once Reno dismounted he should never have moved far from his horses or spare ammunition. Once he dismounted he should have immediately began looking for a strong defensive position to hold until his support could arrive in the valley. He had no right to assume that his support was going to arrive within 20 minutes of time. When Moylan was asked at the RCOI if Custer expected Reno to abandon his position in the valley after 40 minutes, Moylan replied, 'No, he would expect him to hold his position.' What did Moylan know that day that Reno didn't?
A advance guard does not have to engage to remain in contact.
Yes, but Reno's orders were to advance to contact, which means 'engage.' In any event, Reno failed to maintain contact after he left the valley.
If you believe the Indians accounts that if Reno charged they would have won then you have to believe that if Custer followed Reno that they would have charged and won. Right?

Regards

Steve
I think the Indian accounts that claim had Reno charged he could have driven them out onto the prairie referred specifically to the Hunkpapa camp. The account was given by a Hunkpapa who was there. Most of the Indian accounts criticized Reno for withdrawing from the valley. Had he remained in the valley the Indians would be "caught between two fires" as Custer attacked from the opposite end.
garryowen,
keogh