Post by benteeneast on Sept 16, 2015 21:18:52 GMT -5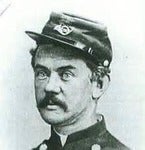 keogh: Yes, the 2000 Indians between Custer and Reno would have been caught in a cross-fire had Reno advanced to meet the enemy.
-------------
benteeneast (BE): What weapon system are you describing that could have been used to catch the Indians in a cross fire.
The .45/55 Springfield carbine.
Are you talking about the .45/70 chambered Springfield carbine. .45/55 is a cartridge loaded to less than capacity. I am guessing that a blank could very little black powder that would not change the size of the chamber and the nomenclature of the carbine.
BE: Custer's 5 companies were not within supporting distance of each other let alone thinking Reno could advance close enough to catch Indians in a cross fire.
Custer's 5 companies were split between 2 squadrons. One being left behind on Calhoun Hill to support the Reno/Benteen expected advance.
Support can not mean the potential to support. If that is true then all 7 companies supported Custer all he had to do is get there. Support is a function of overlapping fields of fire. It is not a guidon stuck in the ground on Weir or what Custer did to support Reno in the valley.
BE: By your statement Edgerly caught them in a cross fire. How did that work? Weir recalled him.
No, Edgerly caught no one in a crossfire. Keogh's position on Calhoun Hill and Battle Ridge had been overrun well before Edgerly ever advanced well beyond the Weir Peaks.
We agree but you erred when you used cross-fire.
Crossfire requires overlapping lines of fire. It is not shooting from two different directions.
Yes, it does. And no one suggested otherwise. Had Benteen advanced beyond MTC and onto Luce/Nye-Cartright Ridges, the Indians positioned in the Henryville area south of Calhoun Hill as well as other parts of Deep Coulee would be caught in a cross-fire. Had Reno followed him up by advancing with the rear guard, along with A & G Co. and the pack train guard to the lower slopes of the Weir Peaks, they would have caught any warriors moving up MTC in a similar cross-fire.
You did by using the word cross-fire "Yes, the 2000 Indians between Custer and Reno would have been caught in a cross-fire had Reno advanced to meet the enemy."
Since the Indians surrounded Custer in order for you to be correct Custer would be in the center and Indians circled around then Reno circled around them. What we know is the Indians would not allow that and simply move.
This gets back to the magical 3 mile weapon system that allows support to be defined at 3 miles distance for cavalry.

Regards

Benteeneast
That's called the magical straw man argument. Magically created from thin air and magically blown down to prove a point no one has ever made.

garryowen,
keogh
I believe it was you that stated 3 miles was supportive distance for cavalry. If you are recanting that distance I would agree that 3 miles is not a supportive distance for the weapon systems at the battle.
Regards
Steve