Post by car72 on Nov 4, 2018 9:44:50 GMT -5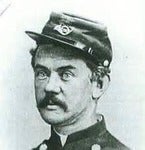 That on the surface appears to be misleading to me. Miles could be generous in his comments since Custer who was his competition is dead. The misleading part is Miles stating "No Commanding officer". We know that commanding officers don't all have the same number and type of soldiers at their command. Terry for example was a commanding officer yet he was willing to let the 7th act on it own. Exactly what ratio of Terry's command was the 7th Cavalry. On the other end of size let's take a commanding officer with 3 companies. He could have 100% involved and not have sufficient troops. Custer gave up the ability to command 12 companies intentionally. There is no one else to blame for that.
Miles statement sounds great but it really has no meaning without context. Was the 7th close to 7/12 of Terry's command? As far as gun fire I suspect there was plenty of gun fire in the valley and 9/12 of Custer's companies never made it across the river to the Big Village side.
It's funny that someone argues that the number of Indians doesn't matter yet the number of soldiers does matter.
I think if you only select one of the many command decisions an advance guard commanding officer has available you leave out the most important part of having a competent officer in charge. They are to make the best available decision. It is misleading to not present all available choices of an advance guard. You can say that Reno did not make the best available choice but it is not correct to say he didn't have choices.
I believe Reno erred when he dismounted at a distance far enough away from the Big Village that they would have to walk further to engage and therefor separate themselves from their horses. Now put those horses where the individual soldier can not see his horse and tell him the Indians are after his horse. What expectation do you have that the soldier is not in a divided attention situation and less likely to perform well.
It is clear to me that Captain French did not think that they went to the timber to defend it. They went to the timber and as any cavalry officer would think. They got on their horses. Cavalry dismounted and fighting on defense is an indication that things are not going well. That is what happens before you become fixed and then destroyed. Cavalry dismounted on offense and firing to be more accurate makes sense but they should be able to get mounted and move if necessary.
Were does it state that an advance guard must allow themselves to be fixed? You can remain in contact without being fixed. A commanding officer going on defense and realizing that there is an overwhelming number of enemy forces can use a breakout to defeat being fixed and destroyed. That is what Reno did. A breakout is force concentration on specific area of the enemy and breaking through them. That was what the charge accomplished. The next part is more complicated in that you have to break contact to reform. That was not something that goes well in a lot of situations. Reno had problems with the breaking contact to reform after the charge to break out. If all the troopers were shooters like French things would have been different. French shot many Indians while they were running from the Indians. It worked great they had to chase him yet when they got close he shot them. The issue was never that you should not run from Indians. The issue was could you shoot them if they chased you. That answer is yes for Captain French. Sadly the majority of the troopers could not ride with an independent seat at speed and shoot accurately while moving. The Indians never closed on French and yanked him off his horse. The Indians were great riders and could ride with an independent seat. They could and did pick vulnerable troopers to target. There is something wrong with a cavalry trooper if an enemy can ride close with his horse pacing yours ans slip his bow over your head and yank you off your horse. French would shoot them before they closed that distance.
Regards
Benteeneast
You seem to be a fan of Benteen. I'm curious whether you are familiar with his actions at a battle which took place in Missouri during the civil war.
When the Union charge commenced at 11 a.m. the Tenth Missouri Cavalry, USA, started forward with a yell and bugles blaring, but half-way down the slope the men hesitated and stopped when the Confederates showed no sign of breaking. Benteen (later of Little Big Horn fame) rode out front, shouting and waving his sword for his men to continue, but they stood frozen in their tracks, intimidated by a force three times their size. As the Tenth Missouri faltered, troops behind still charged forward. To prevent a collision and to continue the attack, the Fourth Iowa Cavalry, USA, pushed through the stalled lines of the Tenth Missouri and resumed the charge. All along the Union line, in a chain reaction from left to right, the charge was renewed.
Benteen was not averse to combat but as the nineteenth century Prussian said "No battle plan survives first contact with the enemy". Reno and Benteen accurately assessed the terrain and size and capability of the enemy and fortified and held a position. Custer and his 5 companies perished on an open field spread out against an overwhelming force. Regarding the arms carried by the Sioux the only "army" survivor was the Crow scout Curly who described the sound as a cloth tearing. The Sioux obviously had repeating rifles and those with muzzle loaders had far more men carrying them than the 200 with Custer. I would also point out the battlefield had been picked over multiple times previously before the forensic analysis took place. It is also notable Terry didn't immediately set off with Reno and Benteen to close on and attack the Sioux.