Post by Clair on May 5, 2015 10:43:30 GMT -5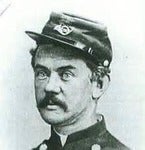 I'm not sure what you mean..."fix and flank" is a description of military tactics that have been used since cave-man days, I think. It covers a lot. It is certainly not a modern definition.
Fixed on attacking is your military definition of fix?
There are MANY definitions of what "fix" is, militarily. It can be psychological or physical. You can fix with a mere demonstration or feint. You can fix by merely sitting there as a "fleet in being." It can also be simply "fixing the enemy's attention."
In my reading of the definition fix is what you do to hold the enemy in place and they can't move for a certain duration of time and you sometimes destroy them in that same place which is what happened to Custer.
Doesn't have to be "can't move," although that is preferable. "Won't be expected to move" is a more encompassing symptom of the fix. Now in Reno's case, in the timber his force is so close to the village that the Warriors will not move from him, even though they physically could do so. If they left, it would only be to retreat and scatter. They would never leave Reno next to their village to move to block Custer coming on the other side of their village...what would be the point? So that is a fix. Even from the bluff Reno can fix if he maintains contact with the enemy...when the Warriors try to leave, he chases them towards the village. They will stop and turn back on him, or scatter away, with Custer coming the other way.
So once a warrior was fixed on getting his war paint on, weapons and getting his horse wasn't he "fixed on attacking"?

I believe you are attempting to create a tactical obligation for time duration on Reno for something impossible to do militarily. Reno with 3 less than full strength companies could never fix the warriors in village. Unless you change the military definition of fix to mean something other than being in a certain location and unable to move.


Correct...physically fixing an enemy is not the military definition, only one possibility. Reno's mission is very clear...if he were sober he would have no doubt about it. Stay in front of the enemy until Custer and Benteen show up. Period. There is no other option, really. He is keeping the enemy occupied, to be sure...more "occupied" than he would have liked! But he is doing his mission as long as he stays in the timber, and he would know that...Cavalry 101.
I would suggest that the other end of the "Big Village" was free to do whatever they wanted and if Custer did actually cross the river and attack it would be two fronts and not a flank of the Indians fighting Reno. The way I learned flanking is that they should be the same warriors attacking Reno not a different location and different warriors. The Cheyennes were free to leave if they chose. There was no command and control that united the big village. That they went to meet Custer created another front not an exposed flank.
ALL the capable Warriors, but for a small akacita force, were at the Reno fight. There was no force left in either village to stop Custer cold (enough to influence him to dismount, though! A Custer mistake not spoken about much...maybe we need to). It is all about Crazy Horse, and his activities and timing. Want to get into that aspect?
Once Crazy Horse, the slowest major leader to get ready, committed his followers to the Reno fight, ALL the Warrior force was FIXED on Reno. Custer could easily see this from the Weir hills or Luce Ridge promontories. Is it accident that reports of his attack at Ford B from many coincide with Crazy Horse's army leaving the village area?
Since DeRudio testifies that he left without orders what proof do you offer that others heard and were following orders? I believe Reno
ordered the skirmish and only he could order them off it. Reno testifies that he does not believe the timber was defensible so he would not order them to take defensive positions in the timber. What we have is the troopers moving to their horses in response to an announcement that the Indians were after the horses. Reno know has to deal with the best available decision with troopers he did not order off the line moving to their horses.
I'm not sure I understand this issue...Reno ordered G company into the timber to secure the horses, right? Not to mount up, just to protect them. Lt DeR followed G Company Soldiers into the timber. Is there a problem I'm not seeing here?
Clair