Post by keogh on Aug 25, 2014 10:58:32 GMT -5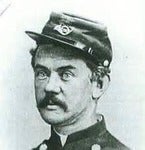 Yet you believe that Reno with three companies should have been able to hold out for hours. Maybe Reno believe they should be " working together as a cooperative force, there was little chance that the hostile force would overwhelm any one of separated battalions that day, as the warriors would not be able to concentrate on any one battalion without coming under direct attack by another"
Regards
Benteeneast
Yes, any one battalion fighting on good ground could have held out for several hours until their ammunition supply was exhausted. If Reno thought they should all be working together as a cooperative force, then he would have been correct. The mission of an advance guard is to occupy the attention of the enemy until the enemy can be engaged by the rest of the Regiment. Reno should well have understood that his 3 troops would very soon be supported by the arrival of 8 more within a short period of time and well before the expenditure of his ammunition. Had Reno been caught on poor defensive ground I would cut him more slack, but that was not the case. Being caught on poor defensive ground, as Keogh was, would significantly shorten the ability to hold out unsupported.
garryowen,
keogh