Post by keogh on Dec 20, 2013 16:05:07 GMT -5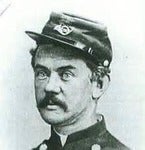 keogh: I think the naivety lies in the notion that the NPS had a better choice back in the late 50's and early 60's. As I said before, the field of Battlefield Archaeology did not exist in the US at that time. There were no achaeologists like Fox and Scott studying military battlefields at that time. We can at least agree that an attorney and a trained historian were significantly more suited to the job than a farmer who collects and sells relics for profit
.
-----------------
benteeneast: Give me a break. What do think Bray's occupation was? When was he working at the LBH battle area?
I believe I mentioned in my last post to you that Robert Bray was an achaeologist who did significant work with the research of Vaughn and Rickey at the Battlefield. In fact, he was brought in to the Battlefield because of their groundbreaking work. You seem to have misunderstood my words above. I did not say there were no archaeologists in the US at that time, but rather the specialized field of Battlefield archaeology did not exist in the late 50's to early 60's. Bray's advocacy of metal detecting use actually makes him a leader in the area of their archaeological use. He was a man way ahead of his time.
The choice even then was to leave it alone until some professional archaeologist could do a professional job. There are numerous artifact locations on NPS land even today waiting for a professional. That their intention was to do the best that they could do is not in question but they did know that professional archaeologist existed and proceeded on their own anyway. The private property owners are understandable. Someone paid by the NPS should have a higher standard in my opinion. There was nothing wrong with waiting for a professional its done all of the time on the NPS holdings.

Regards

Benteeneast
Unfortunately, the more likely choice in those days was to leave it alone for private collectors and pilferers to gather up (Weibert and Pitsch as well as the Real Birds come to mind) or have serious researchers and historians like Rickey and Vaughn and Bray collect them and stake out and map their locations before they were lost to history for good. Its a real tragedy to think of how many thousands of relics have disappeared over the years due to pilfering on the field. The security protecting the site in years past was practically non-existent. Besides, as pointed out above, the NPS did bring in a trained archaeologist to work with Vaughn and Rickey and map out their finds. Bray was a pioneer in the use of metal detecting and archaeology at a time when no one else in the field was doing so.
garryowen,
keogh