Post by keogh on Nov 27, 2013 15:40:44 GMT -5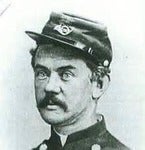 benteeneast: Be careful what you ask for. Some would put a smiley face here
Steve, I am always careful of what I ask for.

Here is something you posted Bill:

Camp to Thompson, 4/24/1910):

You will probably remember where we ate dinner in the wagon last summer, after tramping along these bluffs, Kanipe having driven on ahead of us, and stopped on the flat between the mouth of that coulee [Deep Coulee] and the hill or bluff over the cut bank [Greasy Grass Hill] [So if Camp calls a hill over a cut bank Cut Bank Hill what is the issue?] The bluff near which we ate dinner is the one where you and Watson saw the 5 companies just before the battle started. General Grant says that when he visited there in 1878, there were 4 or 5 graves right on top of that bluff, just where you have told me that Custer's fight started.
Camp described Greasy Grass Hill as being "over a cutbank", yet clearly that very cutbank that he references does not fit your definition of a cutbank, now does it? The southern and eastern portions of the hill are more of a gradual slope which can be ridden up, whereas the northwestern slope drops down steeply towards the river, but not perpendicular, as your definition would suggest. Boyer's Bluff was also referred to in a similar fashion.
benteeneast: A bluff has a steep sided component in order for it to be a bluff so I am not sure what your point is? Cut banks have a steep sided component also.
This is true. The main difference between the two is that a cutbank drops down towards a river or body of water.
You can walk or ride up to a cut bank but depending on the drop off it could be hazardous to your health to continue. There is no indication that they had any trouble negotiating the brow is there?
They negotiated the more gradual south or eastern portion of Greasy Grass Hill, not the cutbank portion of it.
Without going out on the ground the picture that Fred put up looks like the description of what the troopers stated was there. I am not talking about location rather the characteristics.
Yes, there is a brow at both the Pitsch and Vaughn sites, and they both look similar in appearance. However, only the Vaughn site has the brow located close to the river near the cutbank that Gibbon so accurately describes. The Pitsch brow is no where near the river and there is no cutbank at that location.
When I met cowboy Bill in 1979 he was 81 years old. He warned me of the cut banks and quicksand on the Verde River. We were near the older site of Camp Verde and I was checking fishermen and he was gathering cattle.

I followed his advice on how to navigate along the river as far as cut banks but at least one time missed on the quicksand advice and sunk my horse to the girth. I thought he had laid down. The problem with cut banks is that can be unstable and collapse underneath you also.
Interesting story. And yes, the perpendicular cutbanks are prone to collapse if you get to close to the edge.
I see nothing in your Gibbon description using your broader definition of a cut bank with a brow that would eliminate the photo Fred put up.
Oh, the brow at the Pitsch place does fit the description nicely, however, there is no cutbank there to speak of, as that brow is no where near the river .
So does your definition of a cut bank include any bank elevated about a current or older river channel? To me that sloping effect is created by the river channel moving toward the cut bank of the outer part of the curve.

Regards

Steve
Its not my definition, but rather my recognition of the definition used by Walter Camp, Woodruff and others to describe features such as Greasy Grass Hill and Boyer's Bluff being hills over a cutbank. Clearly, their definition of a cutbank does not reflect your more restrictive definition.
Walter Camp is not the only source for using the term "cutbank" in this manner. Here are a few other period references which use the term in much the same way that Camp did:
From Curley's 1909 interview with Walter Camp on the LBH battle, published in Hammer's Custer in 76, my interpretive comments in brackets:
These 3 Crows were with Boyer and me as far as the bluff at the cut bank just south of Ford B and about 1500 from that ford.
Custer left [the] coulee of Dry Creek [ie. Medicine Tail Coulee about] 900 feet east of its mouth and struck the river 1000 feet downstream [or north] from its mouth [at Medicine Tail Ford]. [Note: This would be at what is called today the Real Bird Ford, or what I designate as Ford B-2 at the mouth of Deep Coulee, as opposed to Ford B-1 at the mouth of Medicine Tail Ford proper.] Is is about 900 feet [or 300 yards] further [north] to the first high cut bank [Note: Camp named this cut bank located 300 yards from Ford B-2 as Greasy Grass Hill.]
Curley's account given to Lt. Roe, my interpretive comments in brackets:
they came to a little creek called Green Grass Creek [sic. Medicine Tail Coulee] running down into the Little Big Horn River. To the left of the river was a high cutbank, some 70 feet high [this would be Bouyer's Bluff, just left or upriver from Ford B]. Bouyer and Curley and 2 or 3 Crow Indians went down [the ridgeline from Weir Point], got on that point [Bouyer's Bluff] and looked over into the village.
garryowen,
keogh