Post by blaque on Sept 11, 2017 18:28:53 GMT -5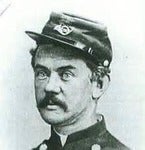 As I told in former posts, Reno and Wallace gave an exact estimate of the duration of the 13-mile ride from Halt 2 to Ford A.
I don't doubt that. But Fred's particular timeline
(F)
distance is not to Ford A. That particular timeline ends at the separation of Custer and Reno. So if someone uses Fred's F timeline for the start and stop time but applies the wrong distance such as Ford A of course the speed would appear greater.
Wallace, the official itinerist for the march, testified that they departed from Halt 3 at 11:45, and reached Ford A at 14:15. Two and a half hours.
Wallace deserves attention in another thread and he has been subject to many investigation including in real time. Again you are giving the end point distance at Ford A. So this could be some of the confusion. Fred and rightfully so separates timelines at the Custer/Reno separation point. After the separation Fred has the Reno battalion timeline and the Custer main body timeline.
Reno, acting Regimental commander and heading the march, stated in 1876 that they departed Halt 3 at 10:30 (in 1879 he said he received his battalion about 10 o'clock) and reached Ford A at about 12:50, i.e. two hours and twenty minutes after leaving Halt 3, or over two and a half hours after leaving Halt 2.
Reno stated in regards to his written report that he only knew from his personal recollection one time if I recall correctly. He states that used others times for his report. So it seem no matter what Reno states he is estimating times or relying on others. Benteen states he uses Wallace's time so if there is an error with Wallace's time it is built into every account.
Again the timelines set the rate of travel and of course they vary with the accounts that one uses. I think some of the confusion is that some are thinking Fred's timeline F goes to Ford A. It does not. The discussion of how fast did Custer move has to end at the separation point. Custer never went to ford A. He went a little further and then turned to the bluffs. After the separation any reasonable timelines need to separate Reno and Custer.
Varnum stated in 1876 that he saw Reno's battalion trotting away from Custer to cross the river at about 2:30 p.m. ("shortly after 2 p.m" in 1879); since he later recalled that "the division of the Regiment was about 12 o'clock June 25th" (in 1911, letter to W. Taylor), Varnum evidently thought that the march from the Divide to Ford A lasted about two and a half hours.
Same answer Custer did not go to Ford A
DeRudio testified that Reno moved out from Halt 3 between 11 a.m. and 12 o'clock, and retreated from the timber between 2 p.m. and 3 p.m. Since he told the Court that Reno stayed in the valley between 20 and 30 minutes, his estimate of the descent to Ford A was about two and a half hours.
Giving estimates after all that happened without recording and having a group think in particular of 2.5 hours seems a common event occurring among witnesses. The range that DeRudio gives for both ends is evidence he doesn't know and is speculating. Just using DeRudio's own times and taken the narrowest time 12 o'clock to 2 p.m along with 30 minutes in the timber that would have 1.5 hours from the halt to entering the timber. At the other end using 11 to 3 and 20 minutes it would be 3 hours and 40 minutes to arriving at the timber. That would have Reno in the valley for 1 hour and 10 minutes.
Dr. Porter testified in 1879 that the battalion reached Ford A at about 1:10 p.m. He wrote in 1897 that when the Regiment was preparing to march, about 10 a.m., he was asked to exchange places with Dr. Lord and go with Custer. He went to meet the Doctor, who refused the arrangement, and shortly afterwards the whole command started out. The march would have lasted well over two and a half hours.
Which is close to Fred's after the separation timeline for Reno reaching Ford A.
Martin testified in 1879 that Custer reached the river bluffs about 12 o'clock. In 1914 he recalled to have blown Officers' Call about 9 a.m. His estimate of the trip to the river can be deducted: About two and a half hours.
That doesn't compute for me. Officer's call is not part of the movement. It would start after that would it not?
Since Custer and Martin went to bluffs I don't see how anyone can use that to determine when Reno reached Ford A.
Benteen testified in 1879 that in his opinion the average speed of Custer's battalions down Ash/Reno creek was between 5,5 and 6,2 miles an hour. Thus, Benteen thought that Custer's 13-mile ride from Halt 2 to the river lasted about two and a quarter hours.
Custer never went to the river. Benteen's estimate of speed is not a walk and is within the range of a trot. Why do you keep stating Custer's ride to the river?
The time estimates for the 2-mile canter to Ford A given by Herendeen, Moylan, Taylor, Hare and DeRudio (about 7 mph) allows to deduct that the rest of the march (obviously slower) was made at an average speed determined by the relative but accurate times given by Reno and Wallace –between 5 and 6 miles and hour, for a total, minimum marching time of two and a quarter or two and a half hours.
No cavalry horse can walk at the regulated speed and have an average over 5 mph. You have to be trotting at least part of the time. So you have Herendeen cantering but Bill and Fred rates of travel are a trot. If they truly cantered without slowing it should be over 10 mph. I don't think they did that even though Benteen testifies he saw them cantering. I think it would be a mixture of gaits with only the timeline determining overall average speed.
As you say, Custer's battalions did gallop part of the way, but note that some galloping is embedded in the fast-gait periods I gave in a former post dealing with speed rates for forced marching cavalry; which means that the 7th would have forced marched down the creek like cavalry usually did –not only at the walk, but occasionally trotting and galloping at an average speed of 9 miles an hour. It is by taking into account this faster gaits that we can conclude that the marching rate proposed by Dr. Gray (4 mph) may be too slow.
Jose
Hi Jose
I think first issue we are discussing is timelines and specifically Gray's, Bill's, and Fred's. We are also discussing how fast did Custer move down Reno Creek. That would be specific to Custer. If we include everyone then scout's would most likely have moved even faster and we know the pack train moved slower. So the only distance that we have Custer and Reno somewhat together is up to the separation point. We know Custer slowed to allow Reno take the advance. Shortly after that Custer quit following Reno and moved to the bluffs.
I think even Gray absolutely states that Custer would not walk down Reno Creek. So since Bill is here and Fred has his timeline published with the explanation of how he formed his timelines I think the answer is to challenge the timelines. But first we have to determine what we are talking about. Custer never went to Ford A so his timeline down Reno Creek ends when he moves toward the bluffs.
Regards
Steve
Steve,
When I say 'Custer' I am referring to the 7th Cavalry he commanded. I say that Custer (i.e the 7th Cavalry) reached Ford A about two and a half hours after leaving Halt 2 because Custer's advance guard and Custer's scouts were the first to reach the LBH, and I think we're discussing here how soon the 7th reached the river after leaving Halt 2.
Let's not obfuscate things: this has nothing to do with criticizing the timelines of respected scholars. It would be a miserly act on my part, since so far I've been unable to build a serious timeline worthy of the name.
In summation:
1.- Reno and Wallace stated before the Court that the head of the Regiment, after starting from Halt 2, reached the river two and a half hours later.
2.- This statement is borne out by every witness who left an estimate either of the aproximate beginning and end of the march, or of the Regiment's average marching speed.
3.- No participant has ever provided unambigous data contradicting the exact report given by both the acting commander and the acting official itinerist of the Regiment, well substantiated by quite a few witnesses.
4.- The rate of marching derived from the duration of the trip perfectly fits with the one experienced cavalry commanders recommend for a 13-mile forced march intended to engage an enemy –walking, trotting, galloping and forfeiting the usual leading on foot.
Of course there may be some reasonable margin of error in the times given, and thus the Regiment's advance guard could have reached the river in just over two hours, or maybe in about 3 hours. But in order to apply a larger increase or decrease of the officially estimated two and a half hours –say more than 3 hours or less than 2 hours– we shouldn't ignore the valuable data left by participants, or else we would limiting ourselves to sheer speculation.
Jose