Post by benteeneast on Aug 26, 2013 21:43:17 GMT -5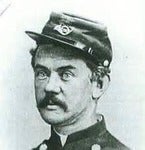 What those first people who reached that memorable hill [Reno Hill] heard, I have no means of knowing [apparently Captain French arrived on the bluffs somewhat later than the others].
I reached there late, and listened attentively and heard nothing to denote the progress of a battle. Along in the lower valley I heard a few scattering shots, such as may be heard near an Indian camp at any time. I paid no attention and attached no importance to that.
So is French lying also? Benteeneast
Well,
someone
is lying. Reno himself said in his official report that "we" could hear firing and that they knew it had to be Custer. But when Reno got to the court of inquiry, his new story was that he not only heard no gunfire but that he was unaware that others were hearing gunfire and that he had no idea that Custer needed help.
McDougall said when he arrived at Reno Hill he could hear the gunfire and that everyone was talking about how they should go help Custer. People well south of Reno Hill heard the gunfire. McDougall and Weir could hear it and went and told Reno and Benteen that they should be moving out to go help Custer.
Churchill heard gunfire and said others heard it too. Hare heard gunfire. Herendeen heard it. So did Gerard and DeRudio. Etc., etc., etc. Again, Reno himself said in his official report, written on July 5, 1876, that "we" heard gunfire and that they knew it was Custer.
So, yes, it's a bit odd that French claimed to have just heard a few scattered shots and that he had no clue that it was coming from Custer.
We also know there was a hefty amount of lying going on by the fact that someone altered Maguire's map. The copy of Maguire's map that was entered into evidence at the court of inquiry was substantially different from the original map (Nightengale,
Little Big Horn
, pp. 176-177). Indeed, even several witnesses who were shown the map at the inquiry commented on its inaccuracies. And the changes to the map just happened to bolster Reno's version of events. Just a coincidence?
Another fact that tells us that some folks were lying is the fact that most of the signatures on the 7th Cavalry petition for Reno's promotion were forged (Nightengale,
Little Big Horn
, Appendix B).
I spent 21 years in the Army and saw my share of cover-ups, revised group think, molding and shaping of reports, subtly pressuring people to say or omit certain things, etc., etc. It didn't happen often, but it did happen.
When you hold a court of inquiry after your commanding general has said he doesn't want any testimony that would damage the Army's reputation, as happened with Reno's court of inquiry, then, yes, you'd better believe you're going to get a lot of lying, shading, distortion, omission, and half-truth.
And the fact that that court of inquiry could find
nothing
to criticize about Reno's conduct at the Little Bighorn tells you what a sham it was.
My gut feeling is that there appears to be a fraud going here. You posted this on August 15, 2013
Custer vs. Reno-Benteen: Middle Ground? 2
« Result #29 on Aug 15, 2013, 3:18pm »
--------------------------------------------------------------------------------
I am a newcomer to the study of Custer and the Little Bighorn. About three weeks ago I caught the bug and am now hopelessly addicted! I am reading everything I can get on the subject.
And all these books and reports you are misquoting you have read in in 32 days?