Post by keogh on Feb 15, 2014 17:47:20 GMT -5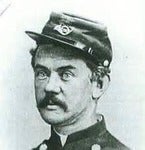 Hare arrives and has Mathey cut out two ammunition mules. He takes around 10 minutes to get back to Reno Hill. Churchill is with Hare and leaves Mathey behind. Mathey stays with the pack train and states he gets to Reno Hill in less than 1/2 hour with the lead of the pack animals that are strung out but not separated.
digicoll.library.wisc.edu/cgi-bin/History/History-idx?type=turn&entity=History.Reno.p0483&id=History.Reno&isize=M
Read the bottom of this page and see McDougall describe the difference between the front and the rear of the pack train.
digicoll.library.wisc.edu/cgi-bin/History/History-idx?type=turn&entity=History.Reno.p0497&id=History.Reno&isize=M
I could not find where McDougall states he arrived at any time later than Mathey and certainly not 45 minutes later than Mathey.
McDougall testified that he arrived on Reno Hill about 3:45 or 4:00 p.m. Mathey testified he arrived on Reno Hill at about 3:00 p.m., about 30 minutes after Hare reached him. That's a difference of 45 minutes before McDougall arrived with the advance platoon of Co. B.
Hare meets Mathey time O hr
Hare separates with two ammunition mules and arrives on Reno Hill 10 minutes
Mathey with the advance mules arrives in less than 30 minutes and as fast as 20 minutes
The rear of the pack train arrives (assuming Bill's 45 minutes is correct) within 15-25 after Mathey
The first 3 lines above are correct. The last sentence above should be changed to:
The 1st platoon of B Co. arrives on Reno Hill about 30 minutes after Mathey's advance pack mules get there. The advance mules of the main pack train begin to arrive on Reno Hill about 45 minutes after Mathey's advance mules got there.
(assuming Bill's 45 minutes is correct)
This 45 minutes gap is not mine. It comes directly from the testimony of both Mathey and McDougall.
I think part of the problem is the word advance. Sometimes it means a separate group and sometimes it is the lead of the same group as McDougall used it. In the later case it only means front. Mathey was in the front (advance) and McDougall in the rear.
Yes, its not an either/or statement. Mathey was clearly with the advance mules, which both Benteen, Godfrey and Pvt. Kennedy indicated were carrying the ammunition mules. You can choose to believe they were traveling in a separate group -- as Pvt. Kennedy clearly stated -- or not, it does not really matter. What we cannot deny is that Mathey held up his own advance mules on a small hill about a mile south of Reno Hill, while McDougall did the same thing with the main pack train travelling several miles to the rear along Ash/Reno Creek after he got a message from Mathey that there was action ahead. The fact is that Mathey testified reaching Reno Hill at 3:00 p.m. while McDougall claimed the pack train under his command reached Reno Hill about 4:00 p.m. That's the basics given to us. We can debate back and forth whether or not these two groups were officially seperated from each other or simply drifted apart during the march, but it doesn't really matter one way or the other. What matters is that the ammunition mules got to Reno Hill at least 45 minutes earlier than the rest of the pack train under escort of the Rear Guard.
McDougall states he was in front of the pack train at the point they were within 15 minutes of Reno Hill. McDougall did have one platoon at the rear of the pack train according to his testimony. Did he arrive first or did Mathey?

Regards

Benteeneast
No mystery here. McDougall told the court that the pack train arrived on Reno Hill 45 minutes after the time Mathey testified arriving there. Since Lt. Hare did not indicate that he reported to Capt. McDougall on his one mile ride south to the advance packs, we can logically assume that McDougall was not present -- but Lt. Mathey was. Of course, there are those who might argue that McDougall was nearby, perhaps relieving himself behind a bush when Hare arrived, and that he sent Mathey ahead with the lead mules while then sitting atop this hillock one mile south of Reno Hill for the next 30 minutes until the rest of the pack train arrived to join him there, but that is not what he testified to, nor is that the least bit logical. Still, I don't expect it will keep those afflicted with a more vivid and creative imagination from arriving at such a conclusion. In fact, we can almost depend upon it.

garryowen,
keogh