Post by benteeneast on Jun 29, 2017 8:04:14 GMT -5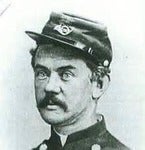 Saying that the Inquiry "only involved Reno's decision making" is too restrictive. On the third day of the inquiry Gilbert objected when the Recorder questioned Lt. Wallace about dead bodies in the Custer battlefield, alleging that this had nothing to do with Major Reno's case:
"The Court was then cleared and closed, and after mature deliberation was reopened, Major Reno and his counsel being present; and the decision of the Court was announced by the Recorder, that the inquiry shall be general in regard to the facts that transpired on the 25th and 26th days of June, 1876,
in regard to the entire command
, consisting of the 7th U. S. Cavalry". The question objected to was then read, and Lt. Wallace delivered his answer.
It is indeed a pity that, in spite of this resolution, the inquiry did not investigate more thoroughly into all "the facts that transpired on the 25th and 26th"; but at least the Court did not prevent testimony regarding the exchanges between Custer and Benteen, rather it explicitly asked for them:
Lee:
State if there was anything passed between yourself and General Custer other than you have stated; if so what? […] I am referring to officers' call by orderly on the morning of the 25th, concerning which you have testified already.

Benteen:
The only thing he said to me that I have not stated was "Colonel, you have the advance".
You see, on the first day of his testimony Benteen told the Court everything he recalled about his exchanges with Custer, then the Court insisted and asked for more on the second day, and Benteen had to call on his memory to bring back some extra detail; and notwithstanding the Court's insistence, he failed to recall anything even remotely resembling Windolph's statement.
Sorry my friend but we have to disagree on this. It was the Reno Court of Inquiry and he was the only one represented by an attorney. That the court wanted to hear some things and stopped others such as Benteen's relationship to Custer would have no effect on the range of their findings at end of the inquiry.
As far as memory and recall that the nature of testimony regarding events years in the past. We also remember different things. That is my experience in over 37 years of observing court room testimony.
Regards
Steve