Post by keogh on Mar 6, 2013 20:05:36 GMT -5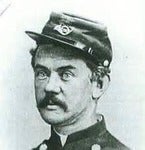 I think this is very true.
For example the Benteen Scout to the left. . . . What we know is that Custer was ahead of where Benteen struck Reno Creek and Benteen was ahead of the pack train. Bill's speed for Benteen could be accurate for his model since there is a relationship there between Custer, Benteen, and the pack train. When Fred's book comes out he may have Custer moving a little faster than Bill's model.
Yes, Fred's model has Custer moving down Ash/Reno Creek a lot faster than I do. The last time I spoke to Fred, he had Custer moving down from the divide at about 10 mph for at least 10 miles. We discussed this at length and I recall him dropping his rate of speed down to about 8 mph, however, I suspect that he has once again fallen back to the higher rate of speed. This rate of speed is certainly possible, but highly unlikely, imo, as it would leave the horses fairly worn out by the time they reached the LBH valley.
What I am reasonable sure of is that Bill's mileage is the distance on a flat map and does not take into terrain features that increase mileage vertically and defiles that slow forward progress.
Yes, you are right, and this is a very good point you bring up. Fred also uses a flat map to calculate his distances, which are very close to my own, but you bring out a good point that we really should be using the modified milage that incorporates vertical slopes and defiles.
When we rode that particular 7 plus flat map miles the GPS recorded closer to 11 miles because of the vertical distances traveled. So if the distance is further the highest rate of travel would have to increase.
Good point. I would be happy to incorporate the longer distance of 11 miles for Benteen's side trip before rejoining the main trail. If we do this, it would increase his total milage traveled before he reached the point near the river where he turned to go up the bluffs to about 16 miles, which he would have traveled in about 3 hours, increasing his avg. rate of speed to 5.3 mph. This brings his rate of speed much closer to Custer's 5.8 mph, however, we must keep in mind that Custer's distance covered is also based on flat map distance and not on the ground distance, so factoring that in as well, we may end up with Custer's advance being increased to somewhere between 6 and 6.5 mph.
What Bill is presenting is his estimate of the distance and the time then coming up with an average speed. That overall average speed gives no clue of potential higher speeds in flat areas and slowing of speeds due to terrain features or any stop for whatever reason. It is only an average of estimated map distance divided estimated time duration to come up an overall estimated rate of travel.
Yes, this is true. The estimates are based on flat map distances, which I agree are somewhat flawed. By all rights, it should be based on the more accurate GPS distances recorded. The rates of speed are an average that does included all the stops, delays for watering or crossing of streams, etc. It does not pretend to distinguish between rates of speed for flat terrain vs. obstructions. I don't think it practical to to otherwise.
I believe that all models have Custer ahead down Reno Creek with Benteen arriving at Reno Creek behind Custer and the pack train behind Benteen.

Benteeneast
This is true, and the rate of speed for the pack train is most important to factor in here, and gives us a good clue as to the rate of advance of all. The pack train would be moving at a fairly steady rate of about 3.5 mph down Ash/Reno Creek for about 6 miles after crossing the divide when Benteen's battalion returned to the main trail on the creek. That suggests that Benteen returned to the main trail about one and 3/4 hours after leaving on his recon to the left. This would put his rate of speed about 6.3 mph. Not a bad rate at all. Benteen would have been only 5 miles or so from the LBH River at that point, but it would take Benteen an hour and 15 minutes to cover that ground -- due in large measure to his extended water breaks at one or both morasses, dropping his rate of advance over this last third of his distance to about 3.4 mph, and his overall speed down to 5.3 mph. This information suggests that Benteen's rate of speed on his recon to the left was not at all slow or dilatory. The problems surrounding his expected speed would only seem to arise once he returned to the main trail along Ash/Reno Creek.
garryowen,
keogh