Post by benteeneast on Apr 27, 2018 8:43:29 GMT -5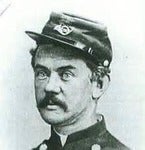 I would like you to elaborate on your theory that Custer wanted Benteen et al to cross at Ford A yet latter following that same note he was to go to Calhoun Hill.
He would not be following that same note. The note directed Benteen to move quickly to the LBH valley. Once Reno abandoned his mission there all bets were off. The only logical step at that time was to rejoin the battle asap and make contact with the regimental commander in order to reunite the regiment. You believe that Custer considered moving to Ford B and attacking and I follow Gordon Harper's opinion that Custer moved north to attack the other end of the Big Village. I think there was a portion of the 5 companies sent to parallel the river to look for a crossing place. Since Custer had chose the east side of the river the NOGO bluffs prevented seeing a crossing until you are on top of it. Looking at Ford B area from a distance you can see it would require crossing, climbing out into trees and reforming in the Big Village.
BE: I think we have a mission failure for sure but at no time would the mission change to saving Custer. Is that what you believe? That the mission changed on the bluffs to saving Custer?
Not at all. I am sure 5 companies destroyed and the Indians fleeing is not a successgul mission. The primary mission remained to attack the enemy and capture their village. That mission had not changed. Custer's wing went from a flanking mission to a fixing mission, drawing the attention of the hostile force and drawing it around his position on Battle Ridge. It was now imperative for Benteen and the rest of the regiment to advance to the sound of the guns and assume the new flanking element.
Your definition of a fixing mission is foreign to what I learned in the Marine Corps. We were taught to fix the enemy and destroy them in place. If the enemy with superior numbers attempt to fix us we breakout and kick ass while doing it. Korean would be a good example. The Indians fixed Custer's 5 companies and destroyed them which what the enemy tried to do to the Marines in Korea.
I am not sure why you think allowing the Indians to fix Custer's scattered companies on BR is something planned for success by Custer.
BE: The Indians fighting Custer were highly mobile and across the river from the families and infrastructure. This so called General Miles catch em in a cross fire would take place where? I think Miles should have have done some measurements and use supporting distances of the weapon systems.
Any hostiles occupying Nye-Cartwright Ridge would be in a cross-fire from Keogh's battalion on Calhoun Hill and Finley Ridge and Benteen's battalion advancing to Luce Ridge.
Go to Google Earth Pro and check out the distances and viewscapes. You statement is easy to defeat since the distances and line of sights are fact and not subject to change. Also in your opinion Benteen would move down to near Ford B and then he would be in a true cross fire.
BE: What route would Benteen take to get to Calhoun Hill? Ride down to close to Ford B and then up Deep Coulee or straight across MTC climb out where Custer had fought with Indians earlier and continue toward CH and then drop into Deep Coulee again?

Regards

Steve
I would suggest that Benteen would likely take a direct route down and across the Weir Peaks to Luce Ridge, thence to Nye-Cartwright Ridge following the trail made by the Yates squadron.
garryowen,
keogh
But your crossfire would have Benteen where? And where would the Indians be located? I am sure that Greasy Grass could address FF Ridge without being in any crossfire. I am also sure that Henryville addresses CH without being in any crossfire. These are actual areas occuppied by Indians.
Once you reach 600 yards distance you limit the ability to make hits to very few shooters on either side. If you throw in terrain features that act as cover then the Miles crossfire is not realistic. Whatever was done to Custer would have been done before Benteen could follow your suggested route. I don't disagree that some Indians came from the Reno fight to fight Custer. What I question is that Custer could have made it if they didn't show up. I think there were more than enough Indians willing to fight to leave out the Indians fighting Reno to finish off Custer as they did.
Regards
Benteeneast