Post by keogh on Feb 3, 2013 15:15:12 GMT -5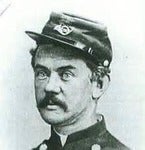 americanindian.net/custer/files/page_103.html
Custer first halted on Weir's hill and took a look at village (from this point he could see only about 1/3 of it Hunk and Blackfoot villages WMC).
For battle students reading this synopsis, it is important to understand that the reference above to "Weir's hill" is not anywhere on the Weir Peaks. Camp located this hill well to the south and east of the Weir Peaks on his map -- in the area today known as Sharpshooter Ridge. It has been a source of much confusion to battle students over the years who automatically -- and falsely -- imagine that it referred to Custer and Martin observing the village from the Weir Peaks. Had this hill actually been on the Weir Peaks, they would have been able to see the entire village in the valley below them. The fact that they could only see a small portion of the village (likely just the Hunkpapa and Blackfeet camps) was due their vision being blocked by the Weir Peaks further to the north and west from where they were standing -- likely on a hillock along Sharpshooter Ridge.
Here he turned column to the right and went down coulée to Dry Creek and turned to left and followed Dry Creek straight for village.
The command turns down to the right along Cedar Coulee or Godfrey's Gulch to Dry Creek (Medicine Tail Coulee) where it turns left and follows MTC straight for the village.
About half way down to Little Bighorn we came into full view of the village (The first time he had seen south end of it WMC) and here he halted the command and Cooke 5 wrote out the message to Benteen, and I started back with it on the trail.
Part way down MTC they came in full view of the village (you actually come in full view of the village from the north slope of MTC almost as soon as you enter it opposite Cedar Coulee). Here the command halted and Cooke wrote out the message to Benteen and Martin started back with it on the trail about 3/4 mile north of the hill from whence they first sighted the village -- as Martin estimated the distance at the RCOI, and the approximate distance between his #8 and #7 he referenced on the Maguire map.
HR you are not using Martin 1910 Camp only your post includes what someone copied off of Astonisher then to the page you posted. The same will happen when someone copies Bill's post which include his comments which are not part of an original.
This is a good point, and a reason why I put my own interpretive comments in brackets and in yellow print so that no one might mistake them for the original content. In this way, those who disagree with them can simply ignore my commentary and insert their own. The author of the Astonisher commentaries should do the same thing.
garryowen,
keogh