Post by keogh on Nov 8, 2012 13:28:05 GMT -5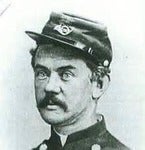 That or simply about face and get out of there...and perhaps message Custer that this wasn't really a very good idea after all.
Its important to realize that an Advance Guard can retreat or withdraw from the enemy if they feel they are in danger of being overwhelmed. But in doing so, their mission calls for them to remain engaged during this withdrawal. To simply about face and run is not really an option here, especially so in Plains Indian warfare, where, as Capt. French said, "To turn ones back on the enemy, unless better mounted than they (which they were not) is to throw life away." Unfortunately, Reno did just that and nearly caused the utter destruction of his entire command, had not Custer been spotted by the hostiles as they closed in on Reno's shattered command as they ascended the bluffs.
Would it not accomplish the same goal if they retrograded and kept the Indians following them? As soon as they quit following charge after them. My main complaint has always been that a true full gallop left the troops out of formation, firearms empty and close quarter battle. Which they survived to some degree.
Yes, in effect I believe that tactic would work provided you did not, as Capt. French warned, turn your back on these mounted warriors when you retrograde. It won't help your command if you lose 1/3 of them in this retrograde and destroy their morale to fight by allowing them to rout, which is exactly what happened to Reno as he left the valley. I agree with you that engaging in a full gallop was a mistake here. One other option was for Reno's command to fall back one company at a time, remaining mounted in skirmish order, about 50 yards before halting and providing cover fire for the 2 remaining companies. By leap frogging back in this manner, they could have reached the river in a few minutes with only a fraction of the losses he actually sustained rather than to choose the "Camptown Races" as his method of withdrawal.
garryowen,
keogh