Post by a10acn on Jun 14, 2017 12:14:25 GMT -5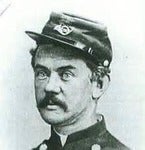 So do you believe that anyone in charge of Custer's command in the same situation and who is also considered a great cavalry leader would have done it the same way? I know Miles stated he understood what Custer was trying to do and I think that is obvious but did Miles state he would have done it the same way. I think Miles used more than a single regiment to achieve his victories.
Thanks for your comments Jose you do make me think. DC stated often we should not use anything after the RCOI and one of the reasons he listed is what you suggest.
Regards
Steve
To say the Custer was defeated for dividing his forces is obviously true, but I'm afraid it's also an oversimplification, since such decision was just one link in the long chain of events ending in disaster for the 7th. I see no 'foolishness' in dividing a regular force to assail an irregular one, specially in this case, when a quick reconnaissance in force was required to collect the intel Custer still lacked and yet catch the enemy as unprepared as possible. Neither should we consider as the magic formula for victory a headlong charge into the village by the four battalions, as if 450 troopers could not be engulfed and cut to pieces by 8.000 infuriated villagers as easily as 150, like Reno feared. The odds would have not improved that much, and in case of defeat –or if the villages escaped behind a warrior screen– Custer would have been blamed and scolded for displaying the tactical finesse of a goat ramming a tree. In this regard I share Godfrey's opinion:
"With all the regiment under Custer's personal direction the results might have been different; but, on the other hand, the whole command might have been wiped out. The division of the command was not in itself faulty" (Graham's
Custer Myth
, p. 147).
A different question is the bad performance in manoeuver and battle of the different divisions –which contemporaries like Benteen, Roe or Brisbin did consider 'foolish'– and how the brunt of blame for this should be distributed among Custer, his subordinates and the victorious warriors. But even a harsh critic like General Brisbin did not dare to censure Custer's resolute determination to attack the hostiles –but quite the opposite, as per his statement of August 3rd, 1876:
"When I saw Custer march out with his regiment I said there are enough men to whip the whole Sioux nation. I thought so, Custer thought so, and so did every officer in the Army, and there is no use therefore in blaming Custer, for every officer in the Army in his position would have acted in the same manner he did" (
The Army & Navy Journal,
August 19th, 1876).
Jose
A "Goat ramming a tree!"
That was literally a LOL moment for me.
Thx, A10ACN