Post by benteeneast on Aug 3, 2018 10:05:42 GMT -5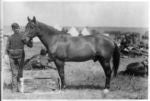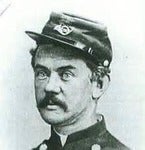 Thank you very much Benteeneast; I heard this use of walking dismounted several years ago by an old cavalry colonel that was in Africa (probably colonial cavalry) in the '30. That of old cavalry and horses was a very interesting and taking world and the colonel was full of episodes and stories about both. Unfortunately at the time I didn't take note from his accounts that were litterally a piece of history on the field.
If I don't disturb you with my curiosity I would ask how long a horse on normal terrain could resist at gallop. If I am not wrong only for a very short time, is it right?
I think a definition would be helpful. The military gallop is a canter or lope so it could be sustained for a longer distance than a true gallop. A gallop when defined as the fastest of gaits is close to out of control for the horse in regards to maintaining a formation. So the cavalry would close with a trot or military gallop and when within 50 yards with a charge command have the horses run as fast as they can. At that command some horses are faster than others and order to maintain anything close to formation it would have to over a short distance such as 50 yards. This distance was also related to muzzle loading firearms in that within 50 yards the infantry soldier could only fire one shot if the horse is moving as fast as it can.
Several years ago I rode my quarter horse "trooper John" in the cinder area as fast as he could move out. I chose the cinders since it would be an easier landing in an emergency situation. According to my GPS his top speed was 32 miles per hour. There are lots of faster quarter horses but it was fast enough for me.
I think if you look at the thoroughbred horses at the top end would be Secretariat who ran 1.25 miles in just under 2 minutes. If my math is correct that would be 37.5 mph over that distance. For cavalry that gait would have the horses spread out just like the Kentucky Derby. I would think the movement from the timber to the river for Reno was the same issue. A flat out race with both the horse and rider with tunnel vision unless the rider was skilled.
I would guess that in a cavalry context running at the flat out speed did not occur very often and at its best for a short distance. I think the cavalry selected horses closer to a thoroughbred confirmation rather than quarter horse type confirmation. The quarter horse is faster for a short distance reaching up to 55 miles per hour for the top horses. That is almost twice as fast as my quarter horse.
So I think your assumptions are correct in that horses don't run a great distance at top speed. I do think they could military gallop (canter) for miles if asked to do so. They can trot for hours. They can also walk for hours but for covering long distance without a formation a trot is preferred. So the bottom line is the cavalry horse buyer was the key to getting horses that could all travel together in a formation at reasonable speeds and durations. From there the cavalry trained those horses in formation at less than top speed for each gait walk,trot, military gallop) which insured a better formation. The horses in the lead were the important ones. If they moved to fast in a gait other horses may have to switch their gait to keep up. So Benteen's fast walking horse would cause other horses that could not walk that fast to have to trot to keep up.
Regards
Benteeneast