Post by keogh on May 6, 2012 21:59:50 GMT -5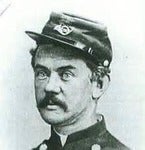 The first is what was he thinking in the valley the second was after he looked at Custer's trail after the battle was over.
Which is the lie? Neither
Benteeneast
Either a lie or a surprisingly incompetent statement from a trained Cavalry officer. Reno states:
"I had no reason to believe Gen. Custer would support me in any other manner than from the rear;"
yet, no source we have indicates that Custer told Reno he would only be supported from the rear. As an experienced Cavalry officer, one must wonder why Reno failed to understand that most support in Cavalry action comes from the flank, not the rear. I wonder how Reno ever got the mistaken notion that his support must only come from the rear?
Then Reno follows this up with another duzzie:
"An attack on the flank would not have been a support under the circumstances."
Unless Reno was under the influence of whisky at the time he made that statement, we can only assume he was not well versed in the effectiveness of a flank attack. I think most cavalry commanders would disagree with Reno's assessment here and consider a flank attack to be a highly effective means of support for Reno's battalion in the valley.
It seems to me that Reno's first thoughts while in the valley were severely flawed from a tactical point of view. His second thoughts were a more accurate reflection of reality whereby he seemed to return somewhat to his senses, recognizing
"that Custer intended to support me by moving further down the stream and attacking the village in flank."
Why Reno did not recognize that obvious fact when he was engaged in the valley is anyone's guess. We can't prove he was lying when he made those bizarre statements, but we can conclude that his decision making was was based on flawed logic and reason.
keogh