Post by benteeneast on May 27, 2021 9:15:57 GMT -5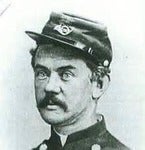 [Note: This is an important admission from Benteen. Here Benteen admits that his orders from Custer were to hunt "for the valley of the river---the indian camp" -- an obvious reference to the Little Big Horn Valley wherein the hostile camp was believed to be located. In subsequent years, Benteen would always attempt to obfuscate the identity of this river valley so as to make his orders appear to be a rather senseless mission of "valley-hunting ad infinitum." In this early letter to his wife, we see that Benteen knew exactly what valley he was expected to find the Indian village in.]
I believe the order was valley hunting not river hunting. The best support for that is sending the Sgt Major being sent after Benteen was off on his mission. Custer would not have thought the river had moved. If you give Benteen a line and tell him to go to hits the river than it needs no update. No one thought the river would be at those line of bluffs.
I believe that Custer knew from Herendeen of the south fork of Reno Creek. It did have running water and it created a morass in Reno Creek. It would be a travel corridor that Herendeen would know of since he was in a battle with 600 Indians there. So the angle Benteen was ordered places a little over 4 miles upstream SFRC. If Custer's movement would cause Indians to flee then Benteen could cut them off and report to Custer.
The other problem with the goal being the LBH is the line Custer gave him. Continue that line from where Gibson marked on a map where he was located and it will be more than 10 miles upstream LBH. Where Benteen turned is an overlook of SFRC and you can clear it back to Reno Creek. Great view from that location but very steep and narrow. Probably why Benteen kept with the companies in the bottom of noname.
Third if Custer want Benteen to be upstream the LBH then he could have taken Benteen with him and just one drainage short of reaching the river have him move up that drainage then cross over to the river.
If you make the ride you will understand valley hunting ad infinitum.
The problem is that from the divide you can not tell which drainage is SFRC. There is no question though that you will hit the LBH river no matter how many
drainage
you cross (a lot) to get there. I believe that Benteen did exactly what Custer wanted him to do. If he truly was to go to the river then the battle would be almost over as he rides up the LBH. I think the hesitancy of Benteen is that once he reaches SFRC is it where he should turn or is there one more drainage ahead holding Indians.
Regards
Steve
Steve -- Great points both -- the one with the hard traveling and the horse needing water due to the terrain being so difficult. So question on this, Benteen obviously took the time to water his horses after getting notified to come quick. If this was to have a battle ready battalion that is
understandable; but does that imply that Benteen thought the rest of the command could handle anything they came across until he showed up? VR Mark
I think it would not be a decision-making change unless the battle was close and it would not matter if the horses gave out. I think the watering took a long time only from those who arrived there first and had to wait. The access to the water was limited due to the bogginess. I think the stragglers were there only 10 minutes which about the same amount of time Custer spent watering.
I don't think Benteen had received the note when he started watering. I asked my armor friends a few years back. If your tank is empty and you may have to travel a lot of miles do you stop and refill. When I first rode with others that had walking horses they would reach the top of a grade and stop and rest. My horse would just make it there and they would take off. One time my horse decided to bite one of those horses for taking off. I bought a Tennesse walker and named him Custer. He could walk at 9 mph for hours. I kept my quarterhorse who averaged 3.5 miles per hour because he could find deer and he went through the mounted academy. He was more bombproof than Custer.
Regards
Steve