Post by keogh on Apr 25, 2014 14:37:52 GMT -5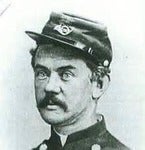 Unfortunately, this was not an option in Indian warfare. What would you imagine the warriors would be doing while Reno stalled his advance? The entire purpose of his advance was to engage and occupy the attention of the warrior force so that they didn't move out east across the river and intercept Custer, Benteen or the Pack Train before they got into positions to attack.

garryowen,

keogh
-------------
benteeneast: We all know what happens when you base your total plan on an assumption.
Do we? I would suggest that all plans are based on assumptions.
That there is a preferred alternative that the Indians might use does not mean your plan should solely be based upon it. Once a change is observed regarding the Indians than the plan should change.
And I believe Custer did change his plans when he gained more information about the size and specific location of the village and terrain.
20 - 30 minutes seems a short period of time as compared to the total time it took to get close to the village. Why not post forward observers watching the village while waiting in Reno Creek for the regiment to close up. It would not take much signaling to move across Ford A and the Indians would be in the flight mode.

Regards

Benteeneast
Remember, the 7th Cavalry had been spotted by Indians up at the divide. His presence was not going to be a secret for very long. I agree with you that the noncombatants would be in flight mode, however, by halting and delaying in Reno Creek you would be guaranteeing that the warriors would come out in force to meet you there. You would end up fighting a battle east of the LBH river while the noncombatants broke down the village, secured the horse herds and scattered to the winds. Then the warriors would break off their attack and disappear as well. Custer would be left holding an empty bag.
garryowen,
keogh