Post by tunkasila on Nov 28, 2012 17:09:25 GMT -5
author=jag board=sioux thread=1839 post=44184 time=1353869696]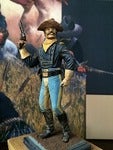 You know every fruit loop that's ever put pen to the paper on this thing has made your Boy General to look like some kind of idiot. And you just keep on spewing out that same old garbage to prove the same. Lemme see here. The Boy General learned late in the evening of the 24th that the Indians he was pursuing was camped on the LBH. This information being provided by the scouts he had sent out to find them. So, at that very time he knew that village was there on the LBH and what did that Boy General do proving that he believed them? He marched his troops all through the night to get there. What did he also know? He knew from talking to his scouts that he couldn't cross the divide without being discovered by those Indians. And he also knew by the same, that he couldn't lay up somewhere and wait until the following morning without being discovered by the hostiles.
At about 9.00 p.m. on June 24th the Crows reported to Custer what they had learned by following the trail of the Indians and it wasn't that they had camped on the LBH. This is what White Man Runs Him told General Scott in a 1919 interview, - 'Q. Were you following any trail?
A. We were trailing the Indians down the Lodge Pole trail and horse trail. This was the regular trail from the Rosebud over on to the Little Horn. On June 24, Hairy Moccasin, Goes Ahead and I rode some soldiers' horses and came to that peak and then rode back. The soldiers were just below Busby.
Q. What did you see?
A. We were not sure whether the Sioux were camping there. It was late and we could not see so well. We knew the trail and the way the Sioux were moving, but were not sure which way they went. Mitch Boyer and the officer and I left Custer at Busby about sundown on the 24th. I was one of the oldest scouts and I did most of the advance scouting. I was very familiar with this country…and I told Custer he had better go down Reno Creek and then he could wait this side of the divide before going into the Little Horn Valley.'
In other words the Crows didn't see the Indians set up any camps and didn't know whether they had turned south, to camp near the LBH headwaters, a favourite camping place, or turned north to the lower LBH where quite often there were game herds.
According to WMRH it was him who advised Custer to move up to the divide.
Once he gets withing 15 miles of their camps he has a go look see for himself. And here's where every Tom, Dick and Harry thinks he still didn't believe what the scouts were telling him. Yet, what did he do? Yup, like some kind of moron, he takes off towards the LBH river almost on a direct line towards the village. And through all this those scouts proved to be right as scores of Indians were out there poking around doing god only knows what. And do keep in mind Custer had no knowledge as to which Indians were which, friendly or otherwise when it came to res. Indians with white feathers in their bands or red ones in the dim morning light, which had nothing to do with whether he knew they had been discovered or not.
It isn't accurate to say that Custer didn't believe his scouts. On the contrary, although he couldn't make out the village smoke and horse herds himself, he was convinced by Charlie Reynolds that the village was indeed there. Not only that, after getting hold of DeRudio's superior binoculars Custer went for a second look from either the Crows Nest or Varnum's Lookout as some maintain. That second look confirmed that the camps were there and the belief that the command had been spotted prompted the march down Reno Creek.
Now where you get the idea that there were friendly Lakota and Cheyenne in the village I really don't know. These were the same warriors who had gone out to attack Crook eight days before which was not a friendly act. Every Indian in the camps was well aware that the army columns were trying to find them and attack them, so any of them who didn't want to fight had every opportunity to leave. Indeed, some agency Indians did just that prior to the battle. White or red feathers? Pure Hollywood.
Now what? You and every fruit loop since Santa Claus invented toys has Custer send Benteen on the most insane of missions, which only proves Benteen was right about what he said about that mission. Custer points to a line of bluffs and tells Benteen to go there and in Benteens words "look up some Indians" and Pitch into them. There's nothing iffy about those instructions. There's nothing iffy about the line of bluffs, nothing iffy about there not being Indians there, and there's certainly nothing iffy about not pitching into them. And there was certainly nothing iffy about the valley the Sergeant sent with the further instructions he was directed into. Yet today you've got him toodling along the ridges where no Indians were, just as Custer instructed at such an angle that when he returns to the trail and continued on until he met with Martin was something like 15 miles. Now to top that off you blame him for what? Not going fast enough so he could save Custer? Hell the man was supposedly doing his job according to you and didn't know diddle squat about the situation until Martin arrives. At that point in time... Benteen was about 1 mile or so from Reno's hill. And the time it took him to get there was about 5 to 10 minutes. And what did they hear atop that bluff? Some heard firing downstream, some didn't. When Girard heard that firing start downstream it was about 15 minutes after Reno had set up his skirmish line. This firing that was heard on the hill was mainly sporadic fire and was the last of the battle downstream and is what Benteen and Reno both knew when they stated they thought Custer and his men were already dead when they met up. Final tally here with Benteen is, it wasn't Benteen's fault that Custer sent him on that mission and then he rode pell mell downstream out of Benteens ranging ability to help him. Hell yes Custer and his men were already dead when Reno and Benteen met up.
It's absurd to suggest that Benteen travelled anything like 15 miles on his left oblique. When he reached the morass near Ash Creek he'd gone roughly six miles. It was another three miles to the Lone Tepee so your mileage is way out. Benteen' mission was not insane, ill-advised or senseless. You seem to forget that Custer had Boyer and the Crows to rely on for details of the lie of the land from the divide onward, so Benteen was sent to ensure that there were no satellite camps in that area and, in the belief that the camps had been warned, no Indians fleeing south from the main village. Benteen's comments about his mission are generally self-serving and should be observed in that light.
You are totally wrong in saying that the Custer battalions were all dead when Benteen met Reno on the hill. The timings simply don't confirm that. If we accept that the firing from downstream was from Luce Ridge and Nye-Cartwright Ridge against some encroaching Indians, then the fighting moved to Battle Ridge and LSH some four to four and a half miles away, any firing from those locations wouldn't have been heard on Reno Hill. What was seen from Weir Point was the last rites of the 5 companies, so disproving the idea that they were all dead when Reno met Benteen.
It was only Benteen that said he thought they were all dead and that in his RCOI testimony, -'Q. Did you not receive such notification from General Custer at the hands of Trumpeter Martin?
A. I received an order to "Come on, be quick, big village, bring packs, bring packs." He then had found... I wish to say before that order, that I believe that General Custer and his whole command were dead.'
This was just about the time that Custer was deploying his forces beyond MTC, so they were certainly not dead then. Benteen thought he was under attack from the Recorder for not obeying the order brought by Martin so used the 'all dead' defence to get himself off the hook. It's my view that Benteen wasn't meant to join Custer in any case.
There is other evidence to show that Benteen didn't think Custer and his men were all dead when he met Reno. The first is his RCOI testimony that he planted a guidon on Weir Point for Custer to see. The second is his comment to Lt. Roe, that he thought Custer had abandoned them and was probably watering his horses in the Big Horn.
Tunkasila