Post by rch on Jul 9, 2011 19:55:34 GMT -5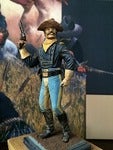 You can't block Warriors...everyone knows that, right? You may not even be able to block families on horses, if they have much of a head start, say, a couple hours worth.
About the only thing you can even think of "blocking," and preventing the escape of, is the property, right?
Second, where do we NOT want them to flee to? What is the "most dangerous avenue" you are REQUIRED to block, in this operation?
Maybe to the west, but I don't see many worried about that route, since it is Crow land. For some reason, they don't feel that even if the Sioux are desperate to escape, that they would attempt to escape across the Bighorn River.
We spend a lot of time thinking Custer is worried about them escaping SOUTH, because of Terry's comment. But why is this? Shouldn't Crook be there, waiting to gobble up the village?
Same with NORTH...Terry and Gibbon are there to prevent the property from crossing the Yellowstone.
So seems to me that Custer's main concern is, and should be, blocking any village escape to the EAST...behind him.
Since he is moving down Ash Creek, that avenue is his main body's approach...no travois are coming back that way. He now needs to block those travois from being pulled around him to the north (right), and around him to the south (left), and moving east, back to the Rosebud.
And note that Custer covers all this...if his "arrow" hits the LBH at the mouth of Ash Creek, he is prepared, depending upon where the big village might actually be camped on the LBH in relation to the mouth of that creek, to block moves to escape around his left (Benteen), or his right (his force).
Clair
By fleeing Indians, I mean whole villages or bands.
Terry clearly wanted to prevent the Indians in the valley of the LBH from getting away without a fight by moving south and southwest. If the Indians moved north, Terry and Gibbon were there. If the Indians moved west Terry could still operater from supply bases on the Yellowstone, at least until the water got low or froze over. If they moved south at all the logistical problems would multiply.
As for Crook, Terry didn't know were Crook was until he got word of Crook's fight on the Rosebud. Crook and Terry were expected to fight the Indians they found. Driving Indians toward another command when communications were nil would have been the last alternative, and probably a surprise for the command that was the recipient or winner of the prize.
rch