Post by brvheart on Jun 8, 2011 18:50:09 GMT -5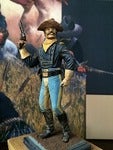 "Theoretically, on the Little Bighorn, with a small-scale defense in suitable ter- rain and an open field of fire of a few hundred yards, several companies of cavalry¬men in close proximity, under strict fire control, could have easily held off two or three times their number of Indian warriors. In reality, on the Little Bighorn, with a micro-scale defense in unsuitable, broken terrain, several companies of cavalrymen not in close proximity, with little fire control, could not hold off two or three times their number of Indian warriors....
It's a wonderful Michno quote, but unfortunately I don't trust much Michno has to say about tactics or Soldiering or military decision-making in any of his books. He's out of his element, I think. To wit:
1. I believe the terrain to be EXCELLENT for defense. Reno's defense rather proves that, I think. Calhoun Hill was even better than Reno's site. Standing on that hill, you can't believe anyone could get within 200 meters of the top, much less any size group, without being shot to pieces.
2. The whole concept of "could normally hold off two to three times their number of Indian warriors" is invalid, I think. They could hold off 100 times their number of Warriors, because these Warriors will not ride *en masse* through fields of carbine fire, period. No matter the numbers...not 10 of them, and not 10,000 of them. They aren't Zulus. Not even Michno gets this. But Custer understood that, I think.
3. Custer wasn't arrogant towards Warrior capabilities. He knew them VERY well...as well as any officer on the Plains. He did NOT underestimate their capabilities, for he had seen it too many times. He knew that the Lakota, particularly, were the "big bad" on the Plains. I do think he underestimated the bad situation he was in, but not because he underestimated the Warriors lethality. I do agree with Michno that Custer's misappreciation of his situation (especially the numbers of Warriors that were massing close to his formations) caused Custer to stay on the offense for too long, and that this was the key to his defeat...we agree on that...just not on the reason for it.
4. All of Fox's Soldier psychobabble that Michno uses I think is bunk. Any panic was a RESULT of tactical disintegration of the companies, I believe...it was not the CAUSE of that disintegration. Officer's tactical mistakes was the cause of the unit loss of cohesion, that enabled the Warriors to get into close combat, and the ensuing panic.
My view, anyway!
Clair
This may be true, but Michno is not overly critical of Custer and beats down most of the common criticisms. In fact, he feels he did everything right - up to a point. My new toy (hand held scanner) works ok on right hand but not so well on left hand pages.